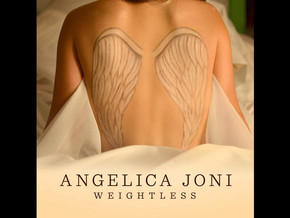 Since our last chat back in February, (http://skopemag.com/2015/02/03/jimmy-rae-chats-it-up-with-angelica-joni-a-pop-star-in-the-making), Angelica Joni's Hit single "Weightless" has been climbing the Billboard Dance Charts reaching #33 recently! And not to mention, "Weightless", now has over 20 remixes/versions where certain tracks are available to purchase on iTunes. Exciting news for Angelica Joni that she will be opening for Carrie Underwood! Angelica will be performing at the Allentown Fairgrounds in Pennsylvania for B104's New Artist Showcase on Thursday, September 3, 2015! Big things on the horizon for the young Pop Diva in the making! I'm not surprised to see Angelica Joni experiencing success as I knew at the beginning of the year that her song "Weightless" had Dance 'n' Pop appeal that was ready to blow up the charts! And here we are now where Angelica Joni is standing tall and shining bright as she continues to grow stronger as an artist. With a new EP in the works that's set to be released this year, Angelica Joni looks to have a promising future ahead in the music world.
J Rae: First, I wanted to say that I'm very excited to have another follow-up interview with you and I see that A LOT has happened since we talked at the beginning of this year. For one, your Hit song "Weightless" has been blowin' up and the track even debuted on The Billboard Top 40 Dance Charts! Congrats on that Angelica but curious to know what you're initial reaction was when you first heard this exciting news?
Angelica Joni: Thank you so much for allowing me to do a second interview with you! I was extremely happy when I found out "Weightless" made it to the Billboard Dance Chart because I knew it was only a matter of time that this record would be recognized and worth making it onto the charts. My team and I have worked so hard to promote and build a reputation for "Weightless" and making it onto Billboard has proven to me that hard work does pay off!
J Rae: I also saw that you had an interview on SiriusXM and wondering how that went for you?
Angelica Joni: The interview with SiriusXM was excellent! Larry Flick was such a warm funny guy and he made me feel comfortable in his studio. He really loved "Weightless" and to have his support means so much to me. The interview was live and I went in there completely unaware of any questions he was going to ask me. I confidently answered everything and I knew he was impressed with me and my success thus far.
J Rae: You were recently recognized by Indie Music Channel Awards as the 2015 Best Dance Artist of the Year for "Weightless", Best Female Pop Artist AND Best New Artist of the Year! Way to go on that as it's definitely a hot time for you and your music career. Why do you feel things are clicking so much right now and why do you think "Weightless" is receiving major airplay & attention?
Angelica Joni: Yes I was and thank you! I think timing is everything. Right now is finally my chance to be in the spotlight. I think I'm getting so much attention on "Weightless" because from the moment I started my professional career I have continuously made positive leaps forward in this industry and I'm at the point where the stars have aligned and now the time is mine!
J Rae: I noticed that the single "Weightless" now has NEW House and Club Mixes and wondering if you could tell the Skope readers more about these new Remixes and how they came about?
Angelica Joni: Yes! I have over 20 remixes/ versions of "Weightless"! When my team and I started my Billboard promotion we reached out to a bunch of Billboard DJs and some of them loved the record so much they hopped on board and volunteered to remix "Weightless!" I've gotten so much positive feedback from the new mixes and I am so grateful for all of the love from these DJs and my fans! Some of these mixes are currently available for purchase on iTunes and the rest of them will be available shortly!
J Rae: I see that your music video to "Weightless",  (https://www.youtube.com/watch?v=45qaivzcCeA), has been doing very well online through various video channels. What has the overall response been from fans after watching your video? Can you give some direct examples?
Angelica Joni: Everyone that watches the video really enjoys it. I came up with the idea for the video myself because I wanted to keep it fun and simple. I wanted to film it on a beach because I've spent a lot of my life in the sun and on the sand. I've gotten so many compliments from people about the wings on my back – I am constantly being asked if they are real! Fans also love the way I portray the feeling of being "Weightless".
J Rae: Word is you're currently working on a new EP to be released in 2015. Exciting news especially since this is your debut EP! Are you able to talk more about this at this time and can you tell the Skope Universe what they can expect to hear from your upcoming release?
Angelica Joni:I won't reveal too much about the upcoming EP, but you can definitely expect to hear tracks with a similar feel to "Weightless" and some dancy club tracks. That's all I can say for now!
J Rae: How has the songwriting process been going on the new EP as it sounds like you have a good, solid team working with you in New York City?
Angelica Joni:The process has been going awesome and I love the producers that I work with because we have a great connection and can really bounce great ideas off each other. They are so amazing at what they do and we create awesome music when we collaborate!
J Rae: Any future tour plans outside of the New York area?
Angelica Joni:As far as tour plans, a national tour is in the works down the road once my EP is complete/released!
http://www.angelicajonimusic.com/
By Jimmy Rae