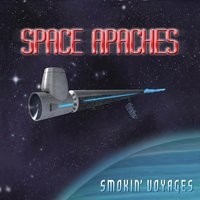 With "Smokin' Voyages" Space Apaches return to the mystical psychedelic 60s armed with a keen ear and sense of joy. The songs pass by in a comforting haze. Space Apaches have a cosmic sound to them as their songs appear to float every upwards. Optimism flows out of these songs. Vocals help to further reinforce this welcoming sound and in fact are reminiscent of Gibby Hayes emotive playful style. Lyrically the songs meditate on the idea of self-improvement and the necessary journeys one must take in life. Full of aural color these pictures positively shimmer and shine, with the keyboards in particular taking on a life of their own.
Listen to the public tracks here: https://soundcloud.com/space-apaches
Opening up with the regal organs of "Sunrise" Space Apaches comes out swinging. Sounding positively massive everything works: from the incredible guitar work to the overall summery vibes that prevail. Things slow down on the contemplative driving rhythm of "Empty". With "Desert Life" Space Apaches show off their restraint and skill at building up their sound until it encompasses all. By far the highlight of the album is the anthemic work of "I Am the Six O'Clock News" where they pay respect to Larry Norman's work. From there they do a fantastic cover of Kenny Rogers hit "Just Dropped In" continuing onward with their homage. Bringing it to a close is "Ghost Riders in the Sky".
Watch the music video for "Smile": https://youtu.be/a3kT4NNuqC0
Their sense of humor and impressive chops are undeniable. Space Apaches finds the sweet spot between nostalgia while looking forward into the future.
Find them on Facebook:
https://www.facebook.com/pages/Space-Apaches/280254098672450?fref=ts
Posted by Beach Sloth