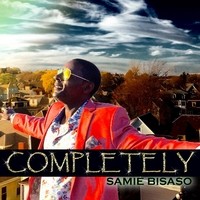 Lovely and full of joy is "Completely". Samie Bisaso's soothing voice is tuned just right to the song's sunlight. Opting for a graceful tasteful touch the production is incredibly smooth. Pop sensibilities permeate the entirety of the piece from the bubbly synthesizers to the gentle rhythm. Everything feels remarkably fragile in the song which neatly coincides with the song's subject material, of surrendering oneself to another person in an act of true love. Keeping the lyrical content wholly focused on the object of affection makes the song feel akin to that of an aural Valentine.
"Completely"
https://www.youtube.com/watch?v=FKNruok2dOk
The song opens as if it is transmitting from far away. With each passing moment the song gets closer and closer to its first full bloom. Interesting dynamics are used to further emphasis the intimacy the song celebrates. For intimacy requires vulnerability hence the concept of "Completely". Hurt might result from this revelation but fortunately the neat aspect of the song is it is able to find its own inner peace. Such intense emotion pours out of the song, including the rather clever usage of vocal effects that are strewn about the piece, further heightening the sense of drama that the song possesses. Towards the final moments of the piece the song begins to fade away revealing Samie Bisaso's voice divorced away from the electronics for a fleeting glimpse.
Colorful, compassionate and deeply engrossing Samie Bisaso's "Completely" explores the entire world of emotion that goes on with gestures of love.
https://www.facebook.com/samiebisasoofficial
Posted by Beach Sloth