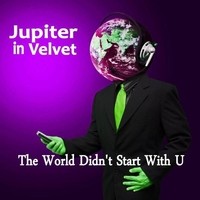 American expatriate, songwriter, musician. These are three identities that Jupiter in Velvet wears, but none define him. There are parts of a greater whole finding its expression in a musical career that began at age ten and has carried him to his fourth album, The World Didn't Start With U. The twelve song collection features original compositions continuing to pursue and develop Velvet's vision for what he calls "electro dance rock", but show off his mastery of rock dynamics and memorable melodies.
The title song opens the album and makes a deep impact. Velvet's heavily distorted guitars are pegged into the red along their sonic spectrum and the romping drums help the riffing maintain its furious pace. Velvet's vocal has a rugged enough edge to compete with the aural assault without ever losing its musicality. The loping bass pulse and guitar feedback opening "Alpha Me Omega U" slides into a raw mid-tempo groove. Velvet shows a lot of vocal range moving from a high register, declarative style into lower key phrasing while retaining a credible sound. "The Beauty of U" foregoes the same sort of clarified riffing that's defined the guitar work in the first two songs. Instead, it takes a compositional approach while still engaging listeners with the same visceral lead guitar erupting throughout the earlier tracks.
The guitars take an even sharper turn into the melodic with "When Love Rules the Day" and the phrasing is instantly memorable. There's a clear-eyed approach to recording the guitars on a Jupiter in Velvet album that derives much of its final effect from its consistency. There's no half measures or partially realized approaches. Velvet strikes a strongly melodic, even lyrical, note throughout the album while maintaining a punchy, physical sound. The clanging, practically industrial riffing pushing "Turning Electric" on the listener scarcely leaves room to breathe and has claustrophobic intensity.
Acoustic guitars on a Jupiter in Velvet album have an unexpected, distinctive quality. They crackle and clang on "No Matter Where U Go" like electric guitars attempting to flare into life and the sparks spill from every bar. Jupiter in Velvet fuses that unique sound with the sharp pop sensibility pervading much of the album. "Camden Shuffle" has more of the same wide swing and fuzzed over riffing that distinguishes the album's best songs. The vocal melody is a perfect match for the riff and accompanying changes. The song title and a brief listen might convince some that this is a relatively simplistic track, but that deceptive impression ignores how the song soars on its instantly identifiable production and muscular sweep. Quasi-punk rock guitar thrashing starts "The Everything and the Nothing" before it downshifts into a tightly wound groove.
Jupiter in Velvet carries its 800 pound gorilla guitar sound to its logical limits on "Eat Your Fear". This is an electrical storm, a balled-up fist collection of guitar riffs barely holding themselves together, but they pulverize the listener with such unrelenting pressure that the song has undeniable power. Velvet finishes the album with "Drive You In2 My Sea", a final guitar-driven pop outing with expansive harmony vocals and effectively minimalist guitar fills. Few artists like this come along in the current scene. There's an effortless fusion of retro musical elements with fiery modern textures. The World Didn't Start With U is a powerful effort and sure to win over new converts to Velvet's songwriting and sound.
FACEBOOK: https://www.facebook.com/JupiterInVelvet
URL: http://www.jupiterinvelvet.com/
8 out of 10 stars.
Jason Hillenburg