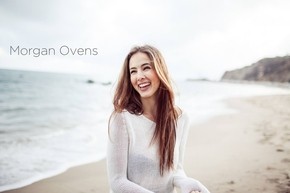 American Idol Season 14 contestant Morgan Ovens releases first single off forthcoming EP, "Back Around".
Singer/songwriter Morgan Ovens blends pop, rock and country sounds together, drawing inspiration from her world travels as she toured Sweden, Canada, the United States, and China. It's safe to say that this Season 14 American Idol contestant has come a long way from singing and dancing the day away in her Ontario, Canada playroom. Fresh out of high school, Morgan moved to Nashville, Tennessee, after being discovered on MySpace.
She stayed busy over the next couple of years, burning through hundreds of demo tapes and writing with successful songwriters who had penned hits for the likes of Taylor Swift, Carrie Underwood, Rascal Flatts, and Beyonce. It wasn't until Morgan moved to Venice Beach, California, to live ocean side and work with pop writers and producers that she found the perfect harmony in her sound.