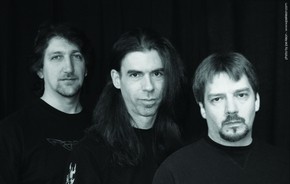 On today's episode we have the talented Temple 8. They break it down on what they are up to in 5 Questions!
Skope: Where are we talking from today and how is your summer going so far?
Temple 8: We're talking from Troy, MI. Summer is going great. We just got back from a trip to Las Vegas!
Skope: What season of the year would you say that you are most creative?
Temple 8: The fall and winter. I tend to get my inspiration and start jotting down my ideas in the fall and then flesh them out in the winter. By spring any new material is usually ready for performance and/or recording.
Skope: What are you promoting most right now?
Temple 8: Mostly we're promoting our latest release, "Iconoclast" and any new shows that we have coming up. We have a show on October 3rd at the Maple Grove in Cleveland, Ohio.
Skope: How much time per week do you devote to your music and do you have work/school as well?
Temple 8: Yes, all the band members have work. By day, Kurt and Brian are Information Technology geeks while Scott runs his own hardwood floor refinishing business. We all devote several hours per week to our music and aside from Temple 8, we all have other musical projects, as well. So, we're pretty busy!
Skope: Where are you @ online and where we can follow you?
Temple 8: Haha! In would almost be easier to ask where are we NOT online because we have a presence on most popular social media and music sites, but here's a short list:
Facebook: http://www.facebook.com/temple8music
Twitter: http://twitter.com/temple8
Soundcloud: https://soundcloud.com/temple8/
Bandcamp: http://music.temple8.net/
Reverbnation: http://reverbnation.com/temple8/