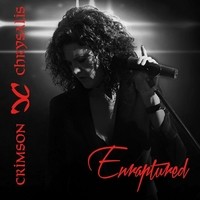 In their short time together as a band, South Africa's Crimson Chrysalis has earned a reputation as some of the best new purveyors of art rock working today. Their sophomore album Enraptured features eleven songs primarily in the art rock vein, but Chrysalis show inclinations for branching out unexpectedly. The five musicians and vocalist share a common gift for creating and enhancing superbly atmospheric musical performances, but the eleven songs amply show their fluency and fearlessness. The album is smartly produced, clocks in at a reasonable length, and has strong sequencing. Instead of falling prey to producing merely a collection of songs, Crimson Chrysalis has produced an unified, yet non-conceptual, work.
It kicks off with the menacing stomp of "Soul Stalker". Lead singer Rene van den Berg inhabits the song wraith-like, her voice providing lone counterpoint against the clenched-fist minimalism of the backing track. It's a strong opener that's followed up by an equally flavorful quasi-waltz called "Surrender". There's really few other acts that I can think of turning their attention to slightly antiquated forms like this and revamping them for a modern age. It's unqiue to hear such a thoroughly non-American song that, nonetheless, remains an entirely accessible creation.
"Elegy" turns the band to their more mournful, melancholy side and they pull it off without too much melodrama or histrionics. Instead, Crimson Chrysalis gives us another smartly crafted and layered cut of symphonic pop. The song's neo-classical leanings never feel tacked on; instead, this song's many elements feel and sound like a natural outgrowth of the band's songwriting vision. "Sacred Vow" explores similar sonic territory but the key difference is in primary instruments. The base of "Sacred Vow" is the piano figure opening the song and everything flows from that. Rene van den Berg delivers another spellbinding performance.
"Infinity" has rousing, cinematic flair that builds impressively from the first note on. The production places van den Berg's well-phrased, confident vocal in the center of the mix and she essays the song beautifully from the heart of an shifting sonic swirl. "Burning Fire with Fire" is, undoubtedly, one of the album's finer tracks. Though guest vocalist Jessica Mercy provides memorable counterpoint, the song excels thanks to clever and suggestive lyrical content. The title alone is tremendously evocative. "Fear" is a claustrophobic, manic musical ride and there are a few scattered moments when van den Berg's voice sounds oddly close to Patti Smith's exhortative style. "Fear" bubbles over with more energy than many songs on Enraptured and ranks as one of the best songs on its second half.
"Virgin Death (Classical Rendition)", as the title indicates, is a performance piece constructed around classical instrumentation and motifs. If you think this information implies it's a stolid, dull song, check your assumptions at the door. There's grand passion softly swaying through the rising and falling of strings and carefully placed percussion. "Grace" finishes the album with a beautifully light and personal touch.
Crimson Chrysalis are working within a genre that, frankly, presents them with few peers. This is adult music, not elevator music for the low salt diet and in bed by nine crowd, but music for relatively urbane and intelligent men and women with a taste for the theatric. Enraptured is an often moving and emotion packed album that should carry the band to a higher level.
I-TUNES: https://itunes.apple.com/nz/album/enraptured/id1000135427
Primary URL: http://crimsonchrysalis.com/
4/5 Stars
Lance Wright