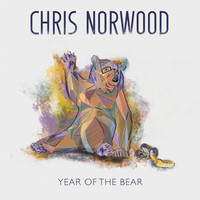 Chris Norwood's "Year of the Bear" is a heartfelt album. With poetic lyrics that recall the earnest vocal delivery of the Mountain Goats, the album is a passionate pared back series of pieces. Every song feels akin to a short story with each story building off of the last. Arrangements are full of warm flourishes, relying nearly exclusively on the interplay between the strings, acoustic guitar, and the well-placed bass. From these few instruments a comfortable environment is developed for Chris Norwood's confident delivery.
Audio: http://chrisnorwood.bandcamp.com/releases
"Afterglow" starts the album off on a high note as the violin soars above the guitar's insistent rhythm. The song possesses an articulate narrative that develops alongside the impressive instrumental work. Quieter in tone is the dreamy work of "You're Standing in My Place" whose violin work is superb. Downtrodden in tone is "Sorry 'Bout That" as Chris Norwood's voice searches for hope. With a slow buildup is "God Willing" which matches the lyrical content perfectly, showing the long difficult path to self improvement. Offering a great deal of space is the deliberate work of "The Seagull". For this piece Chris Norwood lets the languid pace work with the length to create a deeply affecting spirit. Chris Norwood explores the quieter impulses, like on the stripped down work of "Before" as the volume serves as a way of growing closer to the listener. "Wishful Thinking" brings the album to a comfortable conclusion.
Tasteful and refined, Chris Norwood's "Year of the Bear" represents the future of folk.
http://www.christophernorwood.net
Posted by Beach Sloth