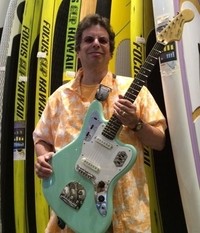 Les Fradkin is taking Surf Rock to a whole new level! With Fradkin's classical backdrops and one-of-a-kind Squier by Fender, Vintage Modified Jaguar in cool Surf Green on lead guitar parts, Les is making a big splash! His new tracks are "Crashing Waves" & Disintegration" and he is venturing back to his ocean rock sound. Back in 2004, Les Fradkin & Get Wet came out with two records in the Surf Rock genre fittingly titled 'Splash' & 'A Day at the Beach' where one might think of say The Ventures, Dick Dale or The Safaris. Les is popularizing the style again but in his own inventive way. Most of the classic Surf Rock oldies had that fast & steady guitar riff that was normally played with heavier strings in order to hold it all together. But Les has figured out a new system where Surf Rock on guitar doesn't necessarily have to contain heavy strings to keep up but that actually softer, lighter strings can work just fine. The secret to more lighter playing during the speedy guitar parts is to have a compressor to take the pressurre off your hands during the fast sections. Thinking outside the box is his name and reinventing the Surf Rock scene is Les Fradkin's game! I'd say Les Fradkin is already winning this game with 16 #1 Surf Rock Rock Hits at MP3.com already under his belt. So come on in because the beach is calling, the water is cool and no sign of sharks here!
Les has two singles in "Crashing Waves" & "Disintegration" that will prove to be two monster hits from sea to shining sea. "Crashing Waves" is just that as you get big waves of sound hitting you from the Surf Green Jaguar Les is playing. Incredibly catchy riffs and guitar playing can be heard here where I was literally hook, line and sinker as far as this tune getting stuck in my head. "Crashing Waves" exhibits a very rich production & texture that's crystal clear like the ocean blue. The overall vibe on this tack is a fun-in-the-sun vibe that's contagious and would have served as a perfect soundtrack for my recent trip to the Crystal Coast of North Carolina. The next single, "Disintegration", has that Surfaris influence soaked in where it seems to be "Wipeout" with a twist! The guitar playing by Les on this installment is just stellar and on point where all there is left to do is shout SURF'S UP!
Les Fradkin perfected these two singles with such finesse where you can really hear the updated Surf Rock audio come alive. Fradkin blended together elements of surf-style rock, classical and instrumental music to produce an overall atmosphere that is free and fun-spirited. Les has crafted a finely-tuned brew that is full of life and has a refreshing taste. "Crashing Waves" and "Disintegration" will put you in a good mood, so leave your worries at home and hit the cool waters created by Les Fradkin.
It's also worth mentioning that Les Fradkin is hitting the road for a Casino and Club tour where he and a live band will be performing "Crashing Waves" and "Disintegration" along with other Surf Rock hits. Joining Les Fradkin on this tour are: Gail Sutton on bass and John Cabellero on drums. Together, they will rock the house with instrumental sets that will bring you to sandy beaches, blue waters and sunny, clear skies. Time to set sail with Les Fradkin & company as they bring you new & improved Surf Rock that will knock your flip flops off!
You can enjoy the MP3 for "Disintegration" right here along with the official video for "Crashing Waves" filmed on location at a serene spot in California: https://www.youtube.com/embed/EofepERj2AY.
MP3 for "Disintegration"
http://skopemag.opendrive.com/files/Nl82NDUyMzUxMl9FTU9HNw/Disintegration-mp3-2.mp3
Also be sure to check out Les Fradkin's Website, ReverbNation page and Facebook page for more on this artist. And you can purchase "Crashing Waves" and "Disintegration" on iTunes for your listening pleasure. You can even see Les Fradkin's best friend at the moment, his Vintage Modified Jaguar in Surf Green that he said he feels "one with" and is on full display in the picture.
Now, it's time to jump in, make a splash and soak in the Les Fradkin Surf Rock Spectacular. Much more to come from Les in the Surf Rock realm but for now enjoy "Crashing Waves" and "Disintegration".
http://www.lesfradkin.com
http://www.reverbnation.com/lesfradkin
https://www.facebook.com/lfradkin
5 Skopes
By Jimmy Rae + (jrae2@att.net)