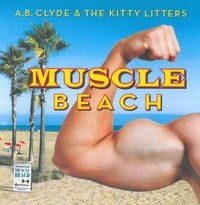 It's impossible to talk about AB Clyde's new album, Muscle Beach, without talking about the role of humor in music. There are few songs on this album played strictly for laughs, so ditch any notions you have about Clyde not qualifying as a serious songwriter. However, having said that, there are perhaps three songs that lack any evidence of Clyde's distinctive comedic touch. The funniest songs on Muscle Beach are those depending on more than one joke to provoke our laughter. When Clyde opts, instead, to pander to the lowest common denominator with songs like "Hootervile", Muscle Beach flatlines. Another critical part of the album's comedic success is its resonance. Clyde's songwriting grounds virtually everything in a concrete reality turned upside down.
The opener makes this assertion clear. "Bulldozin' Bad Memories" is a comic narrative about a relationship gone terribly wrong. Clyde's gleefully unapologetic narrator decides to use a bulldozer to destroy his lover's garden, thus giving the song its title. It's a likable enough song, utterly inoffensive, but close listening hints at boilerplate writing and disappointing predictability. "Nashville Girls" wheels out a fiddle player to augment its non-descript shuffle, but the tasteful musical arrangement can't overcome the song's problems. While this isn't a strictly comedic piece, it does rely on a single joke for its humor. The one joke is played out and clichéd in country and rock music alike. "Why Won't You Make Love?" is one of the album's more successful songs thanks to its bittersweet and often very specific cataloging of the steps taken to seduce in vain. There's humor here that's far from the one-note, locker room variety and Clyde doubles down on its surprising depth with a nuanced, sensitive vocal.
There isn't enough of a musical idea at work to support "Wish I Was in Paris" and the mix of modern and American West imagery is uneasy, disjointed. "Drinkin' in the Dark" has a bluesy, surprisingly dark edge, but it might be initially difficult for some to hear such a conclusive turn towards more serious subject matter following a comparatively light-hearted first half. There is an argument to make that this is more an affectionate parody of the form thanks to Clyde's theatrical, breathy delivery. The title song, "Muscle Beach", marks the album's midway point and succeeds while still presenting problems. There's an unfortunate musical uniformity sinking in around this point. Clyde has married every lyric to some sort of shuffle or languid, vaguely rootsy backing track and even the humor of his writing isn't enough to redeem that lack of musical color. It's clear that Clyde's voice and the Kitty Litters can exist, sonically, on a level playing field but it feels like, too often, the arrangement and melodies are afterthoughts.
It exists alongside another problem dragging the album's second half down. Bloat. Despite the collection relatively modest running times, there simply isn't enough musical variety here to sustain a fifteen song album. More predictable and superficial cataloging disguised as songwriting comes through on "I Brake" and "Bowling in London" and the album hits its creative low-point with the ribald locker room humor of "Hooterville". Clyde, fortunately, reminds listeners of his talents three more time with the wonderfully understated "Billy Blaine", "Railroad Buddies", a musically cheerful ode to alcoholism and crushing loneliness, and the album's finale "Outside", a pleasantly clichéd but surprisingly layered songs about childhood.
There's a lot to like here but listeners will have to wade through Clyde's aural slush pile to find it. There's just too much here and, in the end, it obscures the breathtaking songwriting skill Clyde shows on a number of songs. Clyde's a storyteller in the best possible sense – his unerring radar for significant detail and brush-stroked characterizations are frequently impressive. However, he'd serve himself well to take even more time creating distinct arrangements and become a more exacting editor.
8 out of 10 stars.
URL: http://www.abclyde.com/press/
Shannon Cowden