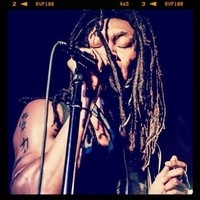 From his ancestral home in Ghana, early years in London, and coming of age in New Jersey, the briefest reading of Kwame Binea's biography hints at the diversity of his music. His debut EP Kwame Binea Shakedown is an attempt to fuse a variety of disparate, though complimentary, musical forms into a distinctively personal voice. It has the strength to meet its aims with any listener. Binea reaches for a western voice, filtered through guitar work and subject matter accessible to any committed listener, but gives it a distinctly African spine with its dense, percolating rhythms. The visceral production helps bring everything to life and fills the song with memorable color.
"Let Go" begins as one part set list opener and another part spiritual exhortation. This is music written with a clear eye towards uplift. Binea's songwriting and the individual performances from each instrumentalist are orchestrating and building tension from the first note onward. The positive message behind the track isn't sugarcoated sentimentality. Binea's voice has appealing musicality, but his vocal tone has enough rough-edges to convey an aura of hard-won experience. "Hang On" has a straighter rock sound than the opener and Binea effortlessly matches the musical swagger. Horns lead the way on this one and give the song's steady stomp instant memorability, but it's another scintillating vocal from Binea that sends this one to the top. It's equally impressive that, despite such a full instrumental plate, Binea and the band maintain a dexterous, airy sound.
"Little Lady" has a slinky tempo and a surprisingly jangling sound. The horns recede some here and take their place as part of an overall balanced instrumental mix, but drummer Medley Shabazz stands out thanks to his masterful percussion work. Binea certainly doesn't need backing singers, but their inclusion here makes things all the more vivid and provides tasteful counterpoint to another memorable vocal arrangement. "Waiting" has a beautifully considered opening patient enough to develop slowly before fully blooming for the first chorus. This final track also affords the guitar a chance to emerge as a crucial instrument in Binea's musical arsenal and Justin Wilcox, Binea's frequent songwriting collaborator, doesn't disappoint.
Kwame Binea Shakedown has much to recommend it. There's certainly a lot of musical diversity here that builds from an encyclopedic command of rhythm and tempo. However, Binea's songwriting doesn't quite yet match the music's cool creativity. While this EP promises much and delivers on future promise, it's also the sound of an artist still finding his way and not yet locked into his potential.
8 out of 10 stars.
INSTAGRAM: https://instagram.com/kwamebinea/?hl=en
REVERBNATION: https://www.reverbnation.com/kwamebinea
Jason Hillenburg