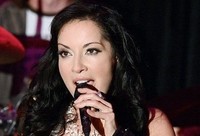 Losing faith in pop music isn't hard. Label heads, impresarios, and moguls learned long ago that formulas are what they are because they make money. They gear the star-making machinery to spit out pure product for generations, tidily packaged song-and-dance entertainers pandering to a plummeting common denominator. Occasionally, like a bank error in your favor, talented musical artists emerge from the slush pile and impress many with their obvious skills. Margo Rey is one of them. Since her 2012 debut Habit, Rey has evolved spectacularly and her latest single "Never 2 Late" shows her working at a high level.
Rey has an unusual voice with a slight nasal edge that sounds, in turns, deceptively powerful and immensely soulful. The nasal tone gives it a lightly insistent effect – when Rey repeats phrases, she's musically nudging us to accept her thought, like "it's never too late", as a given and bends our ears until we do. Passion is easy to convey if you feel it, but it's another matter entirely to communicate it with such a stylish touch.
Rey's phrasing is as impressive as her vocals. The lyrical content is a cut above the typically competent array of clichés usually found in pop songs, but Rey gives it additional distinction thanks to her dramatic reading. She varies her tone at key points, hangs on certain words, and embodies the song with considerable charisma. Nevertheless, there's little show-biz glitter here – she keeps things sincere and earnest.
There are obvious possibilities for an anthem here, but Rey resists that sort of overblown self-indulgence and keeps things tasteful. The backing band is a huge help in this. It is clear that Rey surrounded herself with top-notch technical musicians, but more importantly, they understand the minimalist aesthetic informing so little pop music today and know when not to play. "Never 2 Late" is the work of a serious musical artist, not a pop idol. She does everything better than her more commercially minded peers and her impressive vocals show a singer capable of delivering work with lasting quality.
I-TUNES: https://itunes.apple.com/us/album/never-2-late-feat.-john-oates/id982388902
URL: http://margorey.com/
Jason Hillenburg