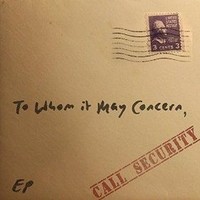 The creation of Call Security's debut EP, To Whom It May Concern, is unusual enough to be worth noting. The five-piece alt-rock band from upstate New York entered the Saratoga Performing Arts Center 2013 Battle of the Bands competition and named a Judge's Choice winner from a field of 48 other bands. Call Security wisely chose not to look a gift horse in the mouth and put the awarded free studio time to good use. While this is the band's first recording, if they are studio novices, detecting their inexperience is difficult. This immaculately produced debut glitters with strong production values that buttress claims of influence from bands like The Killers, Coldplay, and Neon Trees.
To Whom It May Concern opens with "Small Talk" and the band's wholehearted embrace of melody is apparent thirty seconds in. It's the guiding principle propelling "Small Talk" to its conclusion but, along the way, some surprising literary fireworks light up the song. The lyric is a sharply worded look at how we clutter our lives with meaningless chatter, but like any great text, there are larger meanings to uncover. It's more about the self-created distances separating us from those we love and with whom we share our lives. Pairing this relatively dark lyric with such upbeat, even jaunty, musical backing creates an interesting contrast. "Hometown Hair" sparks to life thanks to big harmonies and deceptively simple piano playing. It's a testament to the band's artistic dexterity that they so nimbly keep toeholds in a variety of musical moods, but their balancing of melody and lyrical weight is near perfect on this track. There's density in songwriting like this, but it never feels dead or rehashed. Instead, "Hometown Hair" sweeps through and has a refreshingly light touch.
"Lead Me On" takes a harder edged approach than the first two songs. Slashing guitars and muscular drumming kick open the door and the band that freely indulged listeners love for melody in the opening cuts sounds completely credible here. Some listeners might find themselves wishing for something a bit bluesy from the vocals, but that isn't this band's frame of reference. Instead, this is a rocker that falls within the wheelhouse of the band's influences, but there's more. It has stronger, quasi-punk rock energy and another biting lyric that thankfully doesn't content itself with functionality. Guitars start us off again on "Already Gone", but the melancholy, circular melody rejects the preceding song's rock feel in favor of a folksier opening. The familiar six string flourishes return for another big Call Security chorus, but unlike earlier tracks, there's a greater reliance on cliche here.
To Whom It May Concern concludes with "For the Better" has a lot of promise and another good lyric, but it never properly crescendos, particularly for a finale from a band like this. The chorus has an odd restraint that you never hear in earlier songs, even "Already Gone", and the key is perhaps a need to make the rock elements a bit heavier. While there are a variety of melodic elements in the song, as there are in all Call Security material, there are scarcely more than half-sketched or exploited too little to matter.
This is a solid debut from a band with stronger songwriting skills than arranging skills. They remain a bit beholden to their influences in too many ways, particularly in following formulaic tempos and serving up well-worn guitar clichés, but they are talented players who show enough imagination to prove themselves capable of more. File Call Security under 'Young Bands To Watch' because, while this is a respectable first effort, there are far greater moments than this coming soon.
8/10 Stars
REVERBNATION: https://www.reverbnation.com/callsecurity
Jason Hillenburg