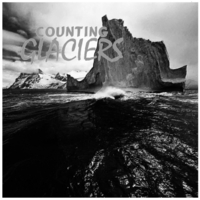 Counting Glaciers creates bright sunny moods on their self-titled album. Tasteful, elegant pieces they explore the intersection of country and jazz. Full of light they are songs that reassure the listener. Remarkably calming their gentle melodies possess great attention to detail from the crisp guitar work to the small flourishes of percussion, piano, horns, and string. Put together the album is a coherent, cool, and confident whole.
Audio: https://www.reverbnation.com/countingglaciers/songs
Tracklisting: http://www.cdbaby.com/cd/countingglaciers
The album opens up on a high note with "Counting Glaciers" which begins with a flurry of chimes, quietly plucked guitar, and as the piece progresses a delicate arrangement takes hold. Strings define the easygoing work of "Bethlehem" helping to give it additional color. Without wasting any time "Say It" begins right in the middle of things, as if the song had been waiting for the listener. Graceful the song's sensibilities neatly combine classical and country in a chamber country sound. Upon the fiddle's involvement into the song Counting Glaciers throws the song into a playful mood. Impassioned to its core is the 80s-informed sound of "The Librarian" whose piece plays against the stereotypical subdued view of a librarian. Sombre in tone is "Scottish Prayer". For this piece Counting Glaciers takes an atmospheric approach to the sound letting the song unfold slowly. On the aptly named "D-Dance" Counting Glaciers creates a jaunty tune with a nostalgic hue courtesy of the clever use of woodwinds. Bringing the album to a close is "Bad Boy", louder than the rest with a clear proclivity for rock's more aggressive nature.
Without a word their sounds are able to offer a great sense of peace.
https://www.reverbnation.com/countingglaciers
Posted by Beach Sloth