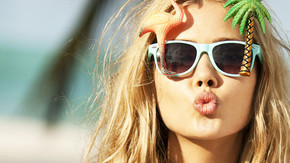 Sunglasses are not just for ornamental purpose. They serve as protectors of your eyes in bright sunlight and even are recommended by doctors. Sunglasses have a soothing impact on human eyes, and hence create a balmy effect even in bright sunlight. It is not uncommon to see sunbathers with sunglasses on as it prevents the eyes from harmful ultra violet rays of the sun. These dark colored glasses could be worn by anybody irrespective of age and gender. The attraction of sunglasses with their varied shape and color is difficult to resist, and even the conservative individuals prefer to have a couple of them.
Wayfarer and Aviator are the two most popular designs of these colored glasses. The former with bold shellac frame and the latter with slim metallic frame are both outstanding. Wayfarer, with a rectangular black frame is a craze among wearers of all age because of its timeless appeal. Aviator is slim, metallic, and has an athletic attraction. The color of lens could be anything among smoke gray, olive green, rust brown, teal, or even pink. Both the designs suit men and women. Sunglass models of men are slightly larger than those worn by ladies.
For women, cat-eye and go-go glasses are also popular. Cat-eye frames as the name suggests are in the shape of a feline's eye, while 'go-go' frames are in the shape of '8'. Cat-eye exudes a naughty look while 'go-go' type is more Bohemian in appearance. Despite their large size both 'cat-eye' and 'go-go' glasses are light and do not sit on your nose or trouble your ear lobes.
Metallic sunglass frames
Metallic glass frames should be chosen carefully and only renowned brands can be depended upon. Cheap metal frames not only lose their color faster but might also cause rashes and allergies particularly when worn under hot and humid conditions. As sunglasses are meant to be worn outside only superior quality metal frames need to be worn. Discretion should go in favour of metal framed sunglasses from established brands. Though these are costlier they are worthwhile buys as they are durable, and of high quality. Their glasses truly guard against ultra violet rays and protect your eyes fully. Metallic glass frames complement well with formal attire.
Shellac frames
Shellac frames are of universal nature and could be worn in any weather conditions. Being non-metallic they are non-reactive to heat, humidity and body salts. Even in extreme heat or humidity they remain dry and cool. Being non-metallic they also are unlikely to expand and loosen the grip on the glass pieces. As these frames remain unaffected by climatic conditions they do not wear easily and last longer.
Shellac frames as compared to metallic frames are cheaper and could be worn with both formal and informal clothes. These frames suit men and women of all age groups.
Buying sunglasses
Sunglasses are sold through retail outlets and exclusive showrooms. Leading sunglass manufacturers have their exclusive showrooms in important cities across the globe. In addition there are several retailers who are appointed as authorized resellers of these reputable brands. As these outlets maintain a healthy collection of sunglasses the choice is large.
It is also possible to buy your preferred sunglass online. Many online shops offer discount coupons or vouchers to lure customers. These coupons, such as a Sunglass Hut coupon code, entitle you to buy great sunglasses at attractive prices. Premier marketers of sunglasses have their websites through which they execute customer orders. There are also several e-commerce sites that offer sunglasses at attractive rates. With multiple payment options, buying online is convenient and time saving.
About the author – Benjamin Marshall is a fashion designer and is equally proficient with male and female dress designing. He also writes blogs on fashion and dress designing regularly.