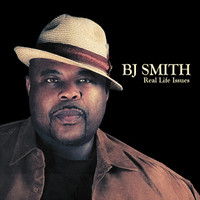 A smooth ride & good effort on BJ Smith's latest single "On Fire." Based in old-school R&B rhythms…we're talking about a hot relationship down to the embers from a flame once burning strong. Despite its mid-tempo pleasant vibe, sweet harmonies and funktastic bass-line, this ain't no happy track! BJ Smith details the heartbreak of loss while actually in the midst of losing love and watching it slip away…or burn in this particular case of his new single "On Fire."
What he doesn't leave you with…is a whole lot to complain about other than perhaps the song itself not being made in your own particular taste or style; but the execution, assembly and performance have all come out as sparkling and bright as the production and mix in this well-rounded song. If you like your Wonders, Oceans, Jones', Gills and Vandross' – "On Fire" is a groove that would fit right into your playlist. Maybe not for the rock-crowd…though BJ Smith makes an argument for all to listen through his confident performance.
For Purchase: http://itunes.apple.com/album/id934516962
Confidence comes from strange places sometimes…and when you listen to a track like "On Fire" you can't help but wonder about the lyrics and how much of this he's gone through in his life outside of music. With matching emotion…his heartbreak and pain translate through the music and tell the tales of a man who wished things had worked out differently in this particular scenario. It's a smartly written set of lyrics that really does require that extra commitment in the performance to be able to be communicated as real and raw as Smith has done here.
Let us take a brief moment to mention the horns! The additional trumpet sounds on "On Fire" might have been what originally sold this song to me, despite the solid hooks & performance that takes place prior to hearing those wonderful horns! Really well-played and they truly add a perfect extra dimension to Smith's new single.
I suppose the bottom line is that it all seems to come together well, save for perhaps the storyline in the song itself. Even in that respect…you've gotta assume that even though "On Fire" is largely a tale of heartbreak…the fact that it's all come out so well has gotta be an indication that Smith is doing A-OK or that at the very least, if he keeps making music at this quality & caliber…he certainly will be.
Find out more about BJ Smith at his official page at: http://bjsmithmusic.com
https://www.reverbnation.com/bjsmith
Jer@SBS – http://sleepingbagstudios.ca