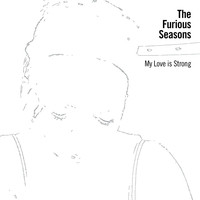 My Love is Strong is a sunny rush of sound. "The Furious Seasons" conjure up images of the crystal clean sound of the Fleet Foxes, with polished pitch-perfect vocals and optimistic lyrics. Best taken in as a whole this is an album that deserves to be played alongside friends as the warm spirit that it radiates is infectious. Colorful with its many sounds, The Furious Seasons manage to accomplish a lot through their lush welcoming sound.
Audio:
http://thefuriousseasons1.bandcamp.com/
Opening up with "Southern Night" The Furious Seasons recall the sweetness of the Beach Boys. Elements of a southern sound ease their way into the mix. Moving at a breakneck pace the song refuses to stop. Reflective in tone is the country-infused "Understood". Languidly paced is the hopeful "Summer Rain" whose lyrics have a nice naturalistic hue to them. Playful and jaunty "Full Disclosure" is the kind of song that revels in its absolute honesty. Horns here work wonders fully emphasizing the carefree spirit of the song. Taking on a sound reminiscent of Bob Dylan is the earnest work of "My Love is Strong". Casual in tone is the light and airy "Want Me Too" that has a slight flirtatious tone to it. The dreamy "Wind Blown" sprawls out and serves as the highlight of the album with the arrangement made just right. Bringing the album to a gracious close is the restrained work of "Soft Landing".
Melodically thoughtful this is pop music as it should be: gentle, kind, and memorable.
Find them on Facebook:
https://www.facebook.com/pages/The-Furious-Seasons/140429721411?fref=ts
Websites Official: http://www.thefuriousseasons.com
Posted by Beach Sloth