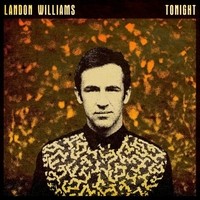 On July 7, Colorado-based singer-songwriter, Landon Williams, is dropping his newest single, 'Tonight.' The moody pop track was co-written with PJ Bianco, known for his work with the likes of Demi Lovato, Nick Jonas, and so on. 'Tonight' culminates all of Williams' eclectic influences, manifesting itself into a track that Williams describes as a meet-up between Foster the People, MGMT, and Lana Del Ray. Williams' self-assessment of his music actually isn't far off that marker, but it does hold that card too close.
'Tonight' is a dance pop song at its core; it's moody, reverb-soaked, and doused heavily in evening romance imagery. It has hints of soul and R&B as well, and it relies mostly on falsetto vocals about how fine the woman in question is. In that regard, this track is far from original. You can turn on your local top forty station and hear waves of this kind of music. That doesn't mean it's bad, but it is coming along at a time where the 'indie' scene is oversaturated with it.
Williams is a well-versed musician with several hundred live performances under his belt. After dropping out of school, he was able to dig himself into the industry through roadie work. His list of influences is admirable, too. He looks up to Van Morrison and Marvin Gaye – That's my kind of guy. Thus, that brings me to the crux of my issue with 'Tonight.'
After spending time becoming acquainted with Williams' pursuits and biography, I found myself underwhelmed by his new single. It's a fluff track: well produced, sung nicely, but shallow and rather aimless. It's an atmospheric indie pop number with album art of Williams fully hipstered out in a peculiar shirt buttoned all the way up. It comes off more like a vanity exercise than something worth absorbing.
I love that Williams has put in the blood, sweat, and tears to make his dream happen. He's clearly talented; 'Tonight' isn't a bad song and he's got a hell of a live resume if he has indeed gigged as much as he claims. With some solid influences to boot, he's a potential force to be reckoned with. What I'm getting at, is that he'd come off more authentic and original if he strayed off the beaten path and put that talent to good use. This is filler music, and I know Williams can bring way more to the table if he wanted. I can walk into any Portland club and hear this. (Or any progressive, 'hip' town, for that matter.) Show us what you got next time around Williams, this single is too 'safe.'
URL: http://landonwilliamsmusic.com/
Review by Brett Stewart