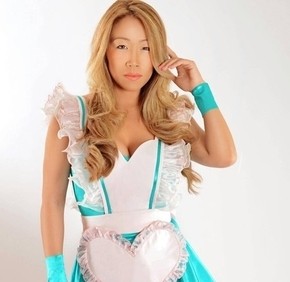 SOPHIA SHY is a spectacular female DJ/producer and Singer /Songwriter, to hit the Canadian scene! If you've ever heard her live, you'll know she is an original DJ that takes the most forbidden and unconventional to make it work while shinning on stage. A definite crowd favorite that wins over and over again. Sophia Shy is digging deep into the Electronic dance Music scene as she begins producing Electro/Progressive House tracks.
She started out as a singer songwriter and is no stranger to the studio recording booth, working side by side early on her career with big names in the industry such as Seven Aurelius, 12 time hit producer, Grammy award winner, along with Ashton price coming from Sony Record Canada . Her vocal tracks are available for preview on soundcloud.
Sophia is spinning some of the most elaborate Progressive and Electro House tracks in the world. Capturing a touch of classic here and there, she loves remixing live on the spot. And a few surprised genre's while keeping it in a fine balance between commercial and underground. Sophia's style isn't just about dropping on time, it's a creative zone where a playlist becomes a showcase performance mix, which is designed only for an audience that is anticipating for while raving and expecting to lose control.
With an international following, her previous release includes WONT STOP YOUR LOVE, available on iTunes now, plus over 700 online music stores around the world. BREAK YOUR HEART TONGHT, is a featured track in her latest project DRIP DROPZ 02 EDM MIX SESSIONS which is on dj.beatport.com/djsophiashy breaking Top 100 Mixes worldwide at #32. Sophia's newest podcast DIAMONDS MIX SERIES is in rotation now on www.soundcloud.com, free download every month.
Teaser video is available to watch as she closes off the last dance pop track, before she moves into Progressive House for all vocal tracks and collaborations in the future.
The latest singles are a follow up to her club bangers and big room sound as a DJ/Producer, now includes NIGHT CRAWLER, PHANTOM, VOLCANO, which release dates will be announced shortly and future collaboration with other dj/producers. NIGHT CRAWLER, a progressive house tracks remains a spectacular combo as she has produce written and sung the whole entire track.
In the mean time we stand close to check out this young ladies edge and pizzazz on the deck. You can catch her spinning live right now throughout the Canadian region while stimulating her current profile as a DJ/Producer.
Check out http://www.djsophiashy.com for up and coming news, events and music information on this DJ. Please contact info@djsophiashy.com for all press, bookings and collaborations. Thanks for joining us during this exciting time while we merge with Sophia Shy into her world.
Management/Bookings/Promos: info@djsophiashy.com
Fan Page: http://www.Facebook.com/sophiashymusic