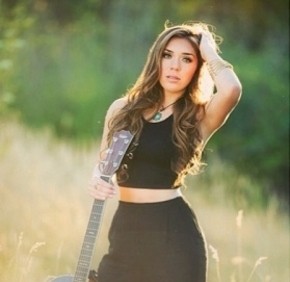 Shannen took her first serious musical steps at thirteen years old when she wrote her first song and hasn't looked back since. She began her love affair with music singing along to karaoke video games with her brother to imitating any Mariah Carey song with her mother. In addition she took on every school talent show from kindergarten to middle school. For Shannen music was the road to a perfect place the gates to heaven, per say.
Audio:
https://soundcloud.com/shannen-nicole-1
One of the best parts of Shannen's talents is that her desire to write comes from deep inside not by force. She writes when she feels something has to be told or explored. Hence her music comes from the heart not from some foreign origin. What is more interesting is that Shannen never took any vocal lessons the closest she got to musical training was piano and guitar lessons. Yet she has proven to have a gifted voice that blends well with her lyrics.
Shannen also learned a lot from her musical inspirations like John Mayer, Adele and Coldplay. She was drawn to their genuine songwriting that always told a story. In addition she saw them all live which she admits made her feel alive. But she also experienced different styles of music via acts like Of Monsters and Men or Cage the Elephant to rappers like Joey Bada$$ or J Cole. Her eclectic playlist has benefited her in producing her own work.
"Concerts they make me feel alive and I smile and realize the greatness of the world. Watching someone perform on stage and witnessing others dreams come alive is priceless. No matter what kind of music they make, that in itself is powerful. It's inspiring."
Besides pursuing her musical dream she is an avid ski racer that she began at 5 years old. Shannen has mastered the complex topic of "time management". Between taking part in ski racing and attending a high end Jesuit High School she managed to release her debut album "Captive". She skied for a team at the Schweitzer Mountain in Idaho a ten hour ride from her home in Oregon. She missed 30 days of school one year but managed to overcome any doubts of success. Shannen trained herself to do what she needed to do in her allotted time. Her sessions where wedged in while attending NYU's Tisch School of the Arts to pursue performance studies. It was a testament to her perseverance and desire to prove to others that anything can be done when you truly want it.
On her debut album she worked with producers Michael Finn and Leo London. The album was recorded at Flora Recording in Portland, Oregon. Michael is not only a seasoned producer but a gifted musician. Along with Leo they elevated Shannen's songs to another level musically that is evident on the project. The album's release is due out on July 7th. Shannen not only wrote the lyrics on the album but she also plays the piano and guitar which both producers mixed perfectly. Her music has been compared to the likes of Nora Jones and Fiona Apple which is a monumental compliement for the teenage singer.
"To be compared to such successful, unique, and soulful artists is unbelievable. I absolutely love their music. I aspire to someday be as great as them the comparison to them almost puts my dream into reality. They have two of the most beautiful voices I have heard. Their songs transcend space and time."
The albums lyrics reflect on her life and the trials and tribulations that are a part of a teenager's life. Her authentic and at times thought provoking music makes it easy on the ears but triggers the mind and soul. Shannen is currently busy promoting her new album and is already back in the studio working on music. She would love to plan a tour which remains to be announced. For a seventeen year old she has managed what most others would avoid trying. She is definitely an act to keep our eye on.
by Nick Christophers