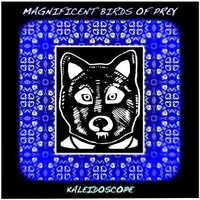 This 4 member rock band Magnificent Birds of Prey recently released their latest 11 song CD entitled Kaleidoscope in 2015. From the first notes of "Sticks and Stones" trough to the final winding twists and turns of "lullaby" this release fires on all cylinders. In contrast a band like Magnificent Birds of Prey deliver an incredibly balanced blend of Heavy Blues, Rock and Hard Rock and just a dash of Alternative Rock.
Magnificent Birds of Prey band members include Carl Kunz Jr. – Guitar / Vocals, Chris LaFrancis – Bass / Synths / Backing Vocals, Joel Adams – Drums & Percussion & Traps, Lyle Kelch Jr. – Vocals / Guitar.
In this aspect Kunz and company have much in the way of promise and marketability especially to cult fans like Soul Coughing, Oleander, Mother Love Bone, Pearl Jam and even Screaming Trees. MBOP provide 11 intriguing musical stepping stones and boldly showcase better than average musicianship with no illusions, or farces. This is real and genuine rock n' roll musical expressionism folks! All tracks are powerful, melodic and highly entertaining. Which doesn't even begin to describe the inducing guitar/vocal presence of front man like Kunz. This guy is a musical triple threat in my mind. He's got the look, he can play guitar, and he's an impassioned singer/songwriter. Like I had mentioned its impressive how well MBOP have combined heavy, blues rock with alt-rock balladry. What's more I didn't fail to notice deep, soulful vocals and emotive lyrics perhaps influenced by Nick Cave. To me MBOP sound most like Kaiser Chiefs. Kunz is a captivating composer and singer/guitarist within his own right. Some songs on this latest release seem painfully simple yet not to be underestimated "Co-Pilot", "Icon" and "Writing Everything Away". Some songs know a sure direction delivering the A-Typical Rock flair "Stormtrooper Blues". However some pieces dig a bit deeper are even dark and boldly honest: "Drive" and "collide O' Scope". Either way this CD by Magnificent Birds of Prey is a hot rock CD – but may not be for everyone. Despite this not so-corporate approach Magnificent Birds of Prey will appeal to old school rock fans mostly who liked music say 10-15 years ago. In this aspect it's not as marketable as some of the music around right now – but who cares. I doubt the Maroon 5 people will be flocking to their shows, but who freaking cares! A million of so disgruntled rock fans will probably beat them up on their way to a Magnificent Birds of Prey show anyway right?
Kaleidoscope pretty much rocks!
FACEBOOK: https://www.facebook.com/magnificentbirdsofprey
BANDCAMP: https://magnificentbirdsofprey.bandcamp.com/
Aaron Miller