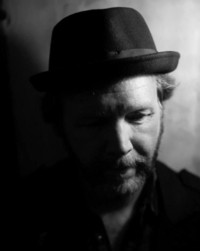 Tim Houlihan sings like someone who has seen things. Often on hearing young singer-songwriters in their late teens or early twenties, critics might praise them for the imagery of their lyrics or the gritty delivery of their vocals. Houlihan skips over grittiness in favour of a pure, smooth voice. He skips over detailed imagery in his lyrics in favour of an implied level of authenticity and the album is all the better for it. This is a controlled, assured performance.
From the first few notes of the first track, those who have never heard a Tim Houlihan record before might worry about whether this is really for them. Opener 'Washington Square' is a down-the-line slice of American adult contemporary. With nods to Bruce and Roy, the opening bars seem to set a worryingly middle of the road tone. But the track settles into its groove and the artist's grasp of his form takes over. Sure, this might sound familiar, but Houlihan uses that to his advantage. Looking back over his past, the lyrics are reflective in a way that is exacerbated by the tone of the track.
Similarly, the record steps out from any kind of comfort zone. Rather than simply incorporating influences and musical flourishes here and there, Houlihan is willing to take on other genres, imbuing each with the same kind of learned consideration he takes to every track. Songs like 'In The Sun' and 'Aljezur Sunrise' are entirely Latin takes, engendered with the artist's own approach to song writing. 'Who You Gonna Know' takes a turn for the harder end of the rock and roll spectrum, sounding something like a Mark Knopfler track by the way of Tennessee. With a willingness to take on other forms, Houlihan note only demonstrates a disposition to move beyond the norm, but to take advantage of the intrinsic features of these tracks and use them to his own end.
Perhaps the best example is the country-bop of 'Gravity.' While many other artists might have approached this in their traditional, time-worn fashion, Houlihan quickens the pace, offering the lyrics a handle to hold onto that would not have been possible with the approach of the album's earlier tracks. He takes a call-and-riposte vocal approach by bringing in another singer and another lyrical viewpoint. It's this kind of authentic conviction that marks Tim Houlihan out as someone who appreciates the finer details of his art. Not only has he put together a series of idiosyncratic tracks, but they add up to a cohesive and comprehensive album.
AMAZON: http://www.amazon.com/Anthems-Tim-Houlihan/dp/B00D4APSUK
FACEBOOK: https://www.facebook.com/pages/Tim-Houlihan-Music/598392076843893
Review by Huw Thomas