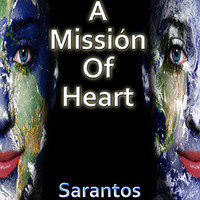 "A Mission of the Heart" shows Sarantos at his most vulnerable. Throughout the song Sarantos shares his innermost hopes and desires. His band proves to be particularly adept at matching the sadness and hope that permeate the piece. In particular it is his soothing voice that gives the song its true power: by emphasizing the joy that can be brought to others through small deeds the song is remarkably optimistic.
Official Music Video
https://www.youtube.com/watch?v=UDx9lb9L7A8
The song opens up leisurely, as if it had been playing before the listener arrived. With this sense of comfort Sarantos explores the evolution of a person, of a person's sense of purpose. Aurally the song's little flourishes of the synthesizer and guitar work wonders. By alternating between the quiet meditative reflections and the larger revelations, the song is able to convey a broad array of emotions. Cyclical in nature the song explores how one is able to find one's greater purpose. Even the guitar solo halfway through the piece seems to further emphasize this point. Towards the end of the song Sarantos appears to have found greater comfort, as the song's confidence grows with the volume. For the final moments the realization comes that the purpose of life goes beyond finding one's identity but also one's greater purpose in life.
Sarantos focuses on the power that one gains by being true to themselves in "A Mission of the Heart". Through this exploration clarity can emerge, the sort of clarity that can inform a lifetime.
Posted by Beach Sloth