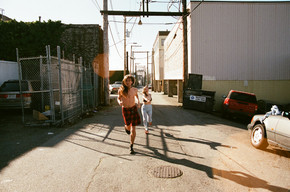 Vancouver's Cafe Lanai shared their first song, "Lanai" and are announcing today their debut atmospheric electronic EP, Paradise on June 30 via Hybridity Music.
Cafe Lanai are one of those bands I'd love for you to check out because they seamlessly blend texture in both their sound and visual output. They're a group that aren't spitefully futuristic, but are clearly forward thinking in how they sound. They can be described as the soundtrack to calming our current Black Mirror-esque fears. Transhumanism wouldn't be so terrifying if this is what it sounds like.
Cafe Lanai is a duo in paradise. Friendship and music at once led vocalists/producers Michael Brock and Forever to adventure together to Pahoa, Hawaii. Originating with the absorption of tropical sounds and antiquated island imagery, the project made a "sweet, sweet double espresso debut" with their deep first single "Lanai".