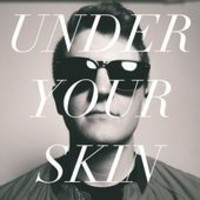 When taking a look at Scott A.F's new EP, 'Under Your Skin,' it may be important to note that this didn't come around like your typical independent artist's record. Sixty-three backers on Kickstarter sent Scott Fleener (A.F. is his stage moniker) propelling forward with nearly five thousand dollars to record his album. The singer-songwriter called upon the crowdfunding community to kickstart his dream of 'creating and writing tunes to make people dance and sing.' Are his new five songs worth his backers' investment?
'One Step Away' introduces Fleener as an indie pop dance artist. If you were to combine Maroon 5's Adam Levine with a copious amount of electronica dance production, you'd end up with something similar to Fleener's endeavor. I'd be lying to you if I told you the lyrics had any sort of depth or meaningfulness at the beginning of the EP. They don't. It's dance music, though, so it serves its purpose adequately. The lack of purposeful lyrics is quickly amended, however, by an incredible production.
'One Step Away' is an explosion of electronic production in the best way possible. As I sat listening to the song, I was enamored by the technique of the mixing as it blew me away on my studio monitors. A flood of tumbling electronic samples and production rumble around Fleener's vocals in an outstanding fashion. He tones down his sensory overloading music for 'Opening Night,' though, a soulful and softly organized evening jam.
'Save a Little Place' is something particularly special. The excellent production of Scott A.F's work culminates and resides within this track. His lyrics are surprisingly meaningful in this tune. I absolutely adore everything about this track. The atmospheric synthesizers and orchestras rising around Fleener aren't only impressive, they're emotionally moving. Add in a ghostly piano progression… absolute pop perfection. Good on you, Scott. This track proves that you've got some serious talent.
'Save a Little Place' is a very, very difficult act to follow. The title track of the EP does so in an effortless fashion. It closes out the album in a grand, firework-esque effort of dramatic and cinematic dance music with purpose that previously seemed absent at the beginning of the album. Check out 'Under Your Skin;' it's a suave and cool experience served best by the last two songs. I think Fleener's kickstarters certainly got their money's worth; this a great little record that exemplifies Scott A.F's potential.
SOUNDCLOUD: https://soundcloud.com/scottfleenormusic
Brett Stewart