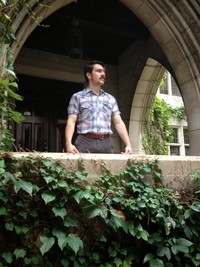 James Rawson's "Tristan & Isolde" effortlessly combines classical and electro sounds into a tasteful whole. The album itself creates a distinct narrative, one of lonely journeys before meeting other like-minded individuals. Wilderness is implied through the spacious territories and James Rawson's calm reassuring voice. Remarkably elegant the arrangements are imaginative as they forge a path towards a more thoughtful, more creative take on pop music. Hyper-literate the lyrics are pure poetry describing the world as it is and how it can be.
Audio:
https://soundcloud.com/independentear/sets/tristan-isolde
Opening up with the spirited strings, electronic percussion, and emotive guitar, "J. Alfred" starts things off on a high note. Contemplative in nature is "St. Katherine" whose vocal work is particularly impressive. "Dead Bones" serves as one of the highlights of the album. With quietly building structures and a casual sunlit afternoon feeling to them, James Rawson recalls the best of the Sea and Cake's tasteful work. Colorful tones define the dreamy "Nocturne" whose weaving of electronic and classical is particularly deft. For "Echoes In The Valley" James Rawson lets the classical elements of his work neatly echo the playful rapid-fire electro sounds that pepper the piece. Gigantic in scope "Mirkwood" is a constantly growing orb of sound incorporating ever more elements into the mix until it transforms into the subdued lovely drone and vocals that bring it to a close. Optimism brings the album to a close with "Love Built A City".
"Tristan & Isolde" shows the evolution of emotion from despair to hope.
Posted by Beach Sloth