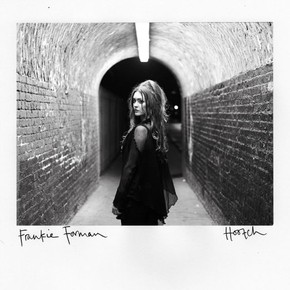 Following the widespread success of her debut 'Blue Dogs' EP last year, which saw her set fire to the festival trail and garnered multiple plays on BBC 6 Music and XFM, sultry singer-songwriter Frankie Forman now returns with her second EP 'Hootch', out 27 May.
To celebrate the birth of this undeniably breath-taking new work, Frankie will be performing at an intimate launch party at London's stunningly fitting St Pancras Old Church as well as giving away her charged second track 'Home Again' as free download via Soundcloud on 20 May.
Blending a new full band sound, plenty of guitars and ethereal mystery within its many twist and turns, this electric five track offering see's this Kentish Town chanteuse experiment fully with the boundaries of traditional rock and roll. Although evolving quickly as an artist, what this release firmly holds on to with both hands is ever prevailing essence of that Frankie Forman sound; soulful vocals that are as hypnotic and enthralling as ever.