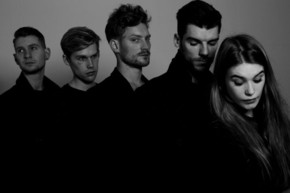 Playing a delightfully inventive brand of indie, infusing delicate string passages with dark, brooding songwriting. There's something a little different about this band.
Sloes first came about when Jerome and Jo started writing together whilst travelling through Colombia – a trip that no doubt added further inspiration to their writing, offering a wider view on genre development and combinations. Paul and Luke came on board shortly after, followed by Katie – Jo's little sister, providing violin, and thus bridging the gap between their electric and acoustic intentions.
A basement in Dalston became home to their early development. Fusing together elements of indie, pop and folk with soaring vocal melodies, ambient guitar lines and rousing hooks. Sloes take the best of their eclectic influences to create one intriguing sound, arguably akin to the likes of Amber Run.