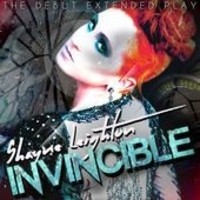 Shayne Leighton's creativity never stops turning. Not content with a considerable fan following resulting from her popular Of Light and Darkness fiction series and a promising acting career, this intelligent young artist and performer has readied her first music EP for release. Invincible is a six song collection full of songwriting recalling themes in her fiction and highlighting her vocal skills.
Invincible opens with "This Time", a guitar-driven mid-tempo rocker with a vivid lyric. The mix muffles the instruments and vocals enough that the production imperfection takes some edge off an otherwise assertive opener. Leighton's chasing a decidedly retro sound here, a lite metal attack reminiscent of the late eighties and early nineties. The lyrical content deals some in clichés, but there are flashes of a vivid imagination coming through. Her gifts as a singer are, likewise, very real, but she underplays a lot of her own material here and sabotages its potential. "Dream of You" has the good wisdom to place Leighton's vocals in less identifiable surroundings and the results will pay off for many listeners. Unlike the opener, there's no basis for comparison – Leighton owns this unique song, a collision of the ballad and art rock forms. Her fully invested, emotive vocal power translates the song's sentiments from the familiar to the intimate.
Leighton scores effortlessly with title track, a cover of Pat Benatar's 80's smash. Hearing her vocal makes clear how she's paid close attention to Benatar's phrasing and intonation in the original. The band's energetic performance and strong production slap a new coat of paint on the song. "Midnight Man" opens with mournful guitar and distant, practically ghostly, percussion. Leighton quickly dispenses with the spare, quasi-Baroque gloom in favor of a much more traditional mid-tempo song about sated desires soon thwarted. Her vocal finds some much needed grit for this often missing from the earlier songs and it helps immensely.
"Foolin" takes up the retro-mantle of the opener and runs with it. It suffers from the opener's same deficiencies. The mix burdens the track with an odd muffled quality that short-circuits its fiery attitude. Even in its slightly compromised state, this is a solid, if unspectacular, rocker. "Wolf at the Door" closes the album with another mid-tempo, guitar-heavy workout. While it relies a little too much on clichéd guitar fills and rhythm work, it's a strong track musically highlighted by great drumming and bass playing.
This is a solid first step for Leighton into a brave new world. There are, undoubtedly, problems to correct, but there's a lot of promise here. Leighton's determined spirit shines through on every track, so there's little reason to believe that listeners won't soon be hearing from her again with a new release improving on this in every way. Until then, her fans will be pleased by this, though she's unlikely to win any new converts.
7/10 Stars
URL: http://shayneleighton.com/
Jason Hillenburg