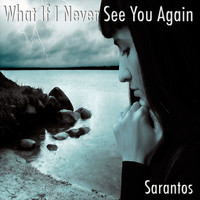 "What If I Never See You Again" recalls the best of early 90s rock. The grunge beginning blooms into an increasingly busy arrangement. Sarantos proves to be particularly adept in letting the lyricism neatly match the sense of optimism that takes hold over the rest of the song. Repetition serves as the backbone of the song as the song grows ever larger with each additional cycle.
"What If I Never See You Again"
https://www.youtube.com/watch?v=unATaRvuBLM
From the grunge-y opening the song moves forward. At first Sarantos opts for the downcast. Restraining the band emotionally the song has a contemplative note to it. The chorus adds to the overall sense of togetherness. Minimal, stripped down, with a sense of grit, Sarantos sings to those who have had to deal with the pain of loneliness. Lovelorn the song explores what it means to be left alone after tragedy strikes. With the passage of time the narrative focuses on the idea of an afterlife. Here Sarantos dreams of something beyond the mortal, trying to invoke faith. For most of the first half of the song Sarantos lives among the shadows, looking at the light from so far away. By the latter half Sarantos has rediscovered his faith. Guitars soar towards the end growing ever larger and larger. Solos pepper the finale of the song.
Sarantos proves to be a versatile singer on "What If I Never See You Again" displaying an uncanny knack for the expansive and the expressive.
Posted by Beach Sloth