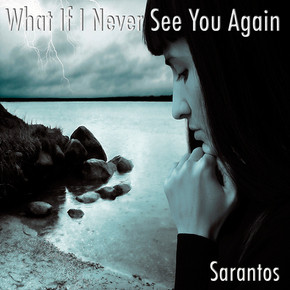 Sarantos releases His Most Powerful Singer And Songwriter Piece "What If I Never See You Again" Which He Wrote After His Father's Death As He Struggled To Cope & Recover.
Death is a very traumatic time for everyone involved. When a parent passes away, the grieving process begins. Does it ever end though? Although the memories of your parents stay with you forever, probably one of the questions that most lingers is if you will ever see them again. This touching melody makes that the central theme. While there is no other well-known song written specifically about this concept, it seems like a topic that has been experienced by many.
"What If I Never See You Again"
https://www.youtube.com/watch?v=unATaRvuBLM
The grieving process comes and goes. However, whether people are religious or not, they will naturally wonder if they will see their parents again in some way or another. It seems that it is common for humans to ask this question after the death of a parent. This will also probably bring to the forefront new questions about the complexity of our planet and maybe our deliberate designer who not only created the universe but also helps sustain it today. Eventually, the question becomes does God really exist. Is there really a heaven? Will I see my dead parent again – in heaven or elsewhere?? What will happen to me after I pass away? The questions will come. Unfortunately, no one will answer them definitively for you.
These are all the real questions that will run through one's mind as they deal with the death of a parent. Sarantos knows this because it happened to him. So he decided to try to capture the essence of this frustration and exasperation one sleepless night and the song was born. The song, melody, rhythm and length fit the mood and feel of this night.
"This is a classic indie singer-songwriter song about what happens to the living after the dead are gone," says Sarantos. "Specifically, we always think it's easier when a parent passes away and leaves behind their children, regardless of the age. I do think that is true and no parent should ever have to bury his child. This song, however, was born one long sleepless night two years after the death of my father. I still didn't have the closure I craved or even a sense of purpose or balance. I was still lost inside although my dad was 74 when he died! I feel terrible even admitting that when others never know their dad or lose him as a child. On this night, the main question I had that I could not answer was – what if I never see him again?? So I wrote a song about it…"
33% of any music-related sales profits from this song are going straight to The National Center For Fathering.