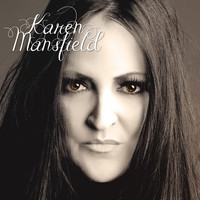 Karen Mansfield's self-titled collection is a bolt of energy. Her voice is strong and prominently displayed among the meticulous arrangements. A western twang ties the pieces together as does a focus on relationships. With these songs she manages to weave together a series of short vignettes into a greater whole. They feel akin to snapshots of a single life whose hopes and disappointments come to define it. Confidence flow through, and as the collection progresses Karen Mansfield sounds increasingly more defiant. Strength comes to her through the exceptionally talented backing band with an understated bass and swinging rhythm.
"I Know You Know"
https://www.youtube.com/watch?v=C-8gMrUS0jY
Great energy defines the busy opener "I Know You Know". A bombastic introduction flutters down as her voice rises above. Even when the band once more turns up the volume she sings above the din. Turning down the volume is the intimate work of "Your Lies". Beginning at a whisper the song gradually builds up. Her voice is the center of the song as the rest of the instruments slowly slink out of the framework. On the alternative side of the spectrum is the playful "Just a Man" with a band that swings along in perfect unison with the lyrical content. Conflicting emotion helps to give the piece a dual sense of self. For "Destiny" Karen Mansfield explores a classic rock sound with smooth guitars, smooth everything really.
Throughout the collection Karen Mansfield shows off her considerable chops and shows how to do country music right.
http://www.reverbnation.com/karenmansfield
https://www.facebook.com/pages/Karen-Mansfield/347484621697
Posted by Beach Sloth