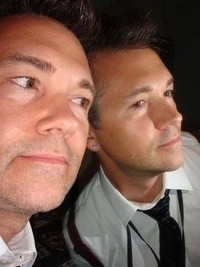 Pop/Soul/Dance/Rocker Craymo (Craig Raymo) recently released 2 hot new singles. The first single is a retro britpop love song inspired by early Beatles, Everly Brothers, Elvis Presley and The Romantics. The second "Be Myself is an upbeat, anti-bullying pop anthem that gives you the courage to just be yourself, no matter what anyone else thinks. There is no one else like you, be true to who you are. Be Yourself. Inspired by Maroon 5, One Republic and Robbie Williams. Both songs within the collection are very motivational and personal songs that aim to help change the world with positive upbeat lyrics and conscious message. By combining synths, funky bass grooves and soulful singing, and very relatable subject matter Raymo is an exciting new artist from Florida. These 2 songs are filled with a colorful array of emotions.
As I listened armed with an open mind and an open perspective and an open beer. This music captures the essence of boldly honest yet upbeat music so perfectly or in the case of Craymo quite effortlessly. In fact it's quite clear to me that this Florida based artists who is originally from New York is not only an experienced singer, he also knows exactly what he's doing behind a microphone. Craymo makes musical-magic-with-a-message in this upbeat, dance party-with-passion-and-purpose. In music, breaking rules and challenging conventional wisdom are often deliberate efforts to establish a marketing niche, but for Craymo it probably feels more like natural state of mind and being. The lead off track "Love You More" presents a sizzling rock ditty that reminds mostly of The Beatles, while "Be Myself" serves up an inviting pop dance number geared to blending 1980s pop and some of today's chart topping music like Oily Murs, Will Young, Ronan Keating and Boyzone to George Michael. Craymo is to me like a Pop Star not afraid to sound a bit retro. One might also take note Craymo has hit the mark with respect to the building causes against bullying as well. There is also a building backlash growing against typical radio friendly pop rock pacing and zany Electronic dance pop. Many feel this style of music has run its course or overplayed it hand. The end result 5 hot new tracks that more closely resemble pop songs in terms of length and musical form, but this is not to say the music is conventional. All the while keeping it mild, real, flowing and simple. Another honorable mention: the inspirational persona from Craymo is not just lip service, it's for real and genuine. This is the perfect foundation to build a long term fanbase from.
Music itself ranging from retro rock, alternative rock, and even course classic dance-pop styles. The vocals really seal the deal for me, especially how he moves between all the aforementioned genres. While some songs rely on over the top theatrics, this one is more laid back in stature – placing an emphasis on vocal feel, mojo and melody. Craymo is not trying hard, rather he naturally infuses light hearted and simplistic themes about love and life which made more sense to me the more intoxicated I became. The rhythms and slow burning vocals coupled with the mind blowing lyrics will cause you to think and comprehend life itself from their twisted and funny perspective. It all makes perfect sense to me now. I like everything about Craymo! Need I Say more.
FACEBOOK: https://www.facebook.com/craymo.music
SOUNDCLICK: http://www.soundclick.com/bands/default.cfm?bandID=778
3.5 of 5 Stars
Gary Root