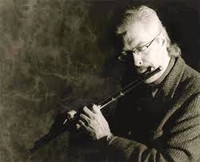 Bill McBirnie is a jazz and Latin flute specialist based in Toronto, Ontario, Canada. He has studied with renowned American flutist, Samuel Baron, distinguished Canadian flutist and composer, Robert Aitken, as well as Cuban charanga legend, Richard Egues. His latest release see his collaboration with Bruce Jones (Guitar, vocals, Percussion and Synth) This well received album consists of original material in a variety of Brazilian formats—but with lots of improvised flute work!
The CD kicks gets off the ground nicely with "Grain of Sand" hard methodical yet smooth flowing title track that serves up inviting Flute, well placed rhythm section meshed masterfully against low end bass line, effective harmonies and soulful melody from McBirnie. Track 2 "Se Eu Fico Com Voce" keeps things moving in the right direction with intoxicating groove, festive feel, steady flowing rhythm, well placed Flute performance brilliantly painted against a hooky chorus making for an invigorating follow-up statement. Track 3 "Quando A Chuva Cai" dishes out another impressive jazzy-groove statement that serves up rock steady rhythm, impressive and impressive vocals from McBirnie that flows and ebbs its way through to motional fruition. The CD makes a great first impression dashing out 3 amazing songs in a row. The musicianship of both McBirnie/Jones hits the mark. I would classify this music as classic Smooth Jazz, Funk, R&B, Worldly Latin and even brief touches of Orchestral Jazz and classic Jam Band. Music is reminiscent of classic Wynton Marsalis, Nicholas Payton, Herbie Mann, Terence Blanchard and even Sydney Bachet. Along the way you will notice lush instrumentation with things like impressive Flute, impressive rhythm section, guitar, well placed keyboards and synths, sporadic Percussive accents, soulful vocal accents, layered everywhere within the music all built upon an amazing rhythm section. What I like the most about these two is they seem to groove together, testament to hundreds of hours of writing and rehearsal time no doubt. Now turning our attention over to McBirnie, as for his Flute playing abilities he's extremely talented. His playing goes down smooth and fills the space peacefully and unobtrusively with a sounds that is simply infectious. I might add McBirnie is a gifted soloist and can sing well, as he takes some impressive vocal risks indicating to me a confident vocal ability on several tracks. Kudos also goes out to Bruce Jones who is a talented multi-instrumentalist. Both make a deadly combination. All songs are extremely well crafted and consistent across the board – world class songwriting. This latest CD from Bill McBirnie and his collaboration with multi-instrumentalist Bruce Jones delivers 14 solid tracks all providing 60+ minutes of musical enjoyment filled with diverse musical variety and diversity. The music of Bill McBirnie has everything you would expect from a world class musical production. From uplifting "Breque Trio a Trez" to slamming "Carnaval Blue" and "Ce Ta Com Tudo" to melodic "Vai Bem Devager" to methodical "A Ponte Para Carlton" this CD has something for just about everyone. The CD ends with Track 14 "Grao de Areia" the perfect finale statement for a CD like this.
Bruce Jones is extremely talented. However zeroing in on his drum performances, it's fair to say the skill level of Jones as a drummer and percussionist are somewhat lacking within the Jazz and Latin realms of music, and are somewhat dwarfed when compared to the playing abilities of McBrinie. In the end – it sounds like a rock drummer trying hard to blend with a top tiered Jazz Flutist. Most rhythms presented are extremely simple, predictable and showcase a basic 4/4 time signature. The rhythm section bar is set extremely high within Jazz and Latin music. Some of this is par for the course for dumbed down Smooth Jazz no doubt, however I wish I heard a few curveball time signatures here and there. I recommend for future works McBirnie bring in an experienced Jazz Drummer and Latin-based Percussionist to better accommodate his playing style. Track 5 "Lembrando Paul Horn" sounds like an incomplete statement to me.
From start to finish "Grain of Sand" by Bill McBirnie and Bruce Jones is an amazing collection and subsequent collaboration. The songwriting and performances, all gold standard, all consistent musical experiences, each one possessing a unique personality, flair, and signature groove. Note for note, song for song there isn't really weak piece on this entire catalog. The writing and playing abilities of McBirnie and Bruce Jones rock solid. The melodies and movements are well crafted, and the overall eel I get delivers the mojo. McBirnie can hold his own as a Jazz Artist within this diversified catalog. At the end of the day Bill McBirnie assisted by the very talented Bruce Jones are clearly a marquee collaboration based out of Toronto.
Label: Extreme Flute
Website: http://www.extremeflute.com/
Genre: Smooth Jazz, Latin Jazz, Funk, World Jazz
Performance Skill: 9/10
Best Songs: Se Eu Fico Com Voce, Izabel, Breque Trio a Trez, Ce Ta Com Tudo
Weakness: Drum and Percussion Performances, 1 short sided song
Final Score: 4.5/5 Stars
Cyrus Rhodes