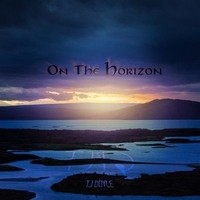 On April 8, TJ Doyle and his band released their new record, 'On The Horizon.' This introspective, heartfelt sophomore release for Doyle is a classic rock-tinged wonderland of exciting performances and impactful lyrics. It delves into some meaningful content in quite excellent ways, making it one of the more notable independent outings of the spring record release season.
I absolutely adore the opening track of this record, 'Change.' The lyrics are deeply personal as Doyle explores the pain of losing his brother, his best friend. Doyle likens his music to that of Neil Young. That comparison couldn't be more apt. The tracks on this album feel like companion pieces to albums like 'Harvest' and 'Harvest Moon.'
Where 'On The Horizon' shines is in its lyricism. 'Cold Rain' harnesses Doyle's sadness about the loss of a relationship with such haunting beauty. 'Something for You' is one of my favorite lyrical boutes, "Like hyperspace, everything's moving at a real fast pace. Twenty-four hour news cycles blaring in our face." Despite the darkness of songs like 'Change,' there is certainly a light at the end of the tunnel of each track. Doyle spends all of his time delving into the aftermath of relationships and loss, not meandering around in the middle of it. His music is progressive as he moves forward and finds something for himself in greener pastures. For a record with some darker central themes, you're not going to get a 'Blood on the Tracks' experience here.
Musically, Doyle exhibits Neil Young-isms all across the board. Songs like 'Human' employ similar production and backdrop vocals to tracks like 'A Man Needs A Maid.' There's a lot of other stuff floating around there, too. He executes his lead guitar charmingly. He's a conservative guitarist: each note is placed perfectly and has purpose. I have more respect for guitarists like that than guitarists who insist upon ostentatiously soloing for twenty minutes. Doyle is reminiscent of Bill Kirchen, the titan of the telecaster.
By the time you've reached the title track, Doyle and company have delivered a very full, all-encompassing musical experience that ventures into some wonderful corners of TJ Doyle's mind. There seems to be a recurring theme of setting suns on the record. It's probably fair to say that this record is a setting sun of its own for the man. It would seem that there is a lot of baggage he's leaving behind with it.
Review by Brett Stewart