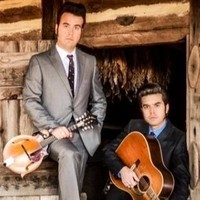 The Malpass Brothers couldn't care less about today's fashions and play music they love. This album invites a number of judgments, but insincerity is not one of them. One pass through this self-titled debut will make clear the objective fact that these young men know how to present this music. Moreover, they have the good sense to frame it in the best possible light with clear, balanced production.
The brothers open with a sparkling cover of Bill Anderson's "A Death in the Family". It is a pleasure to hear the musicians effortlessly glide through these changes with the relaxed confidence essential for producing this music. The steel guitar playing, in particular, imbues the track with an understated lyrical air. There are few weaknesses, but the vocal feels a step off from emoting this right and the gulf comes from the singer's lack of gravitas but, more significantly, their respectfully cautious approach. Covered by everyone from Cliff Richard to Deep Purple, the Malpass Brothers tackle "It'll Be Me" and reduce it to a colorless romp. Mistaking this classic from songwriter Jack Clement for an intricate prog rock gem is impossible, but other artists have chosen to do more with it than merely boil it down to a one-note shuffle and lay a sleepy vocal over the top.
The band's original "Learn to Love Me Too" is a solid outing highlighted by Chris Malpass's great vocal. This song likely began life on an acoustic guitar and the playing here occupies a great position in the mix to help give the track shape without obscuring other elements. Melodic piano playing brings a lot of added color to the song. Taylor Malpass and the band fare less well with an Identikit cover of Faron Young's "Hello Walls" and the failure raises another alarming point about the album. If the band has decided that their vision is to work and record as a top-notch tribute band interspersing classic covers with occasional originals, more power to them. One thing that doesn't require my speculation, their love for this music, stands at odds with their troubling hesitation to tamper tastefully with their cover songs and relax enough to invest them with the grit and passion they demand.
Pete Goble's "Here in Alberta I'll Stay" pays loving homage to the cowboy songs of Marty Robbins, but while that is clearly the vibe this track strives to have, the brothers discover something much finer. Reproducing Marty Robbins' lush voice is a fool's errand, but Chris Malpass' attempt has immense likability. "I Met a Friend of Yours Today" is another stylish track steeped in tradition with its vocal mix of singing and talking. Surprises await country music devotees with their cover of the obscure Hank Williams Sr. gem "I Don't Like This Kind of Livin'" and the Malpass Brothers do a masterful job of capturing the plainspoken poetry in even Williams' lesser-known songs. While the performance veers little away from the original, this cover succeeds where others don't because there is a palpable difference in comfort missing in earlier songs.
The album ends with a cover of The Louvin Brothers' "Satan and the Saint". There is a statement here, if you want to see it. Choosing this decidedly non-secular and obscure offering from the legendary singing duo is an affirmation. Fidelity to the past as a way of informing our today rules every song on this album and this airtight reproduction of the original is thoroughly professional in every way, but perhaps lacks some of the hint of desperation in the original.
Certain age groups will love this album. Admirers of traditional country, small in number, will nevertheless enjoy this immensely. The Malpass Brothers are first class musicians in their chosen genre and their standards are never lax. However, there are many moments when their musical love leaves them too reverential, content to approximate and not remake.
Purchase Link: https://itunes.apple.com/us/album/the-malpass-brothers/id975290427
URL: http://themalpassbrothers.com/
3.5/5 Stars
Jason Hillenburg