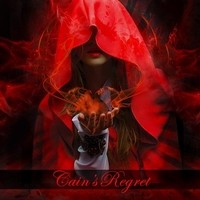 Paula Tozer maps out a spiritual journey on "Cain's Regret". Not a note is wasted. The country-influenced pieces carry their own stories, that of regret, that of joy, and that of compassion. With three tracks this is a trinity of emotional outpouring from the heavy to whole hearted. Lyrically the songs deal with different moments in a person's life. Each one contains its own special story of overcoming the challenges life so often presents.
Audio: https://soundcloud.com/paula-d-tozer
This certainly is true on the dramatic work of the title track "Cain's Regret". With a gentle guitar and fragile organ the song delivers comforting tones as the lyrics reflect upon the tempting darker impulses in life. For a celebratory mood Paula Tozer's "Pereditions Toll" takes on a jaunty rhythm. An active near-dance like rhythm shuffles to the forefront. Paula Tozer's playful vocals intermingle with the song's true star, the excellent fiddle. By far the highlight of the collection everything works perfectly from the passionate fiddle to the delicate guitar work to the steady piano. Ending off the collection on a heartfelt note is the gentle work of "This River Of My Tears". Slowing things down considerably the song takes on a contemplative tone thinking about the world and all the individuals who have helped to make it a better, safer place.
"Cain's Regret" is a deeply spiritual, passionate piece of work. Best taken in as a whole these are songs that build off of each other to create a perfect portrait of redemption and hope.
http://www.reverbnation.com/paulatozer
Posted by Beach Sloth