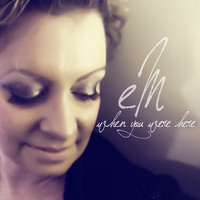 Vocalist/producer/songwriter, eM is back with her most personal & emotional piece of work yet! The brand new single is called "When You Were Here" that digs deep and hits a powerful chord. There's also a "Craig London Chillout Remix" that adds an extra layer of earthy & rich textures. eM takes you on a cool 'n' peaceful journey where you'll be wishing you were here yourself.
This is eM's first release in nearly a year as she's been healing and recovering from a surgery. Fighting against Crohn's Disease for about 10 years now, eM is currently in remission and a real champ inside and outside of the music ring. This new bill of health and newfound hope has truly inspired eM to write a sincere and genuine song that speaks from the heart. "When You Were Here" is a reflective gem that will impact a listener in a big way by inviting the person into eM's world of "Inspiration. Motivation. Dedication." eM may have a soft and subtle approach vocally on this track but the message & feeling is overwhelmingly loud & clear.
The nature of this track may be heartfelt but eM gives both versions of the song an upbeat feel by adding in some Dance/Pop hooks. This Australian artist wants to "wake up and smile" and I'd say right about now eM is wide awake beaming with full gusto. eM is soaring high above the blue skies as she delivers one impactful performance on "When You Were Here". eM is effortlessly sailing through this tune with finesse as she navigates her way through hope and promise. Taking you to a place where dreams and reality collide, "When You Were Here" will lift you up and take you down with no delays. eM's raw emotion, sheer will power and true voice will not leave you hanging at any point.
Since its release date on March 28th, The original mix had nearly 1,000 votes in 10 days and nearly 4,000 votes in 3 weeks on: http://www.hardcoremix.com/top_songs.html. "When You Were Here" currently stands at 5,213 votes and counting, so go vote now! The track was also listed at #6 on the Ambient Chart at: https://hearthis.at/. The "Chillout Remix" cut features DJ Craig London and it's the first time the two have collaborated on a song. London regularly hosts his own DJ show on ah.fm called "Sound of London" and has been performing in London, England for a few years now including Ministry of Sound. Together, Craig and eM have come up with something that's catchy & wise on "When You Were Here (Craig London Chillout Remix)" where the overall approach, style & sound transcends musical boundaries. There's also an eye-grabbing music video that received over 300 views in 3 days and currently has over 500 views on YouTube (https://www.youtube.com/watch?v=u9VZS2WMm2Y).
eM is shining bright on her latest single and you can purchase both versions on iTunes, Beatport, Emusic, Juno Download and most online music sites. "When You Were Here" proves that eM is back and better than ever. eM's here to stay; that's her story and she's sticking to it! Much more to come for this multi-dimensional vocalist/producer/songwriter whose music is full of life, so don't blink or you might miss it.
5 Skopes
By Jimmy Rae + (jrae2@att.net)