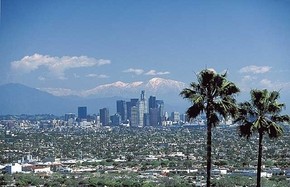 If you are into celebrity spotting there is really only one place to go, if you want the chance to catch a glimpse of someone famous.
LA is a magnet for celebrities and tourists alike and autograph hounds can sometimes be spoilt for choice if they pick the right places to find their favorite stars.
Beverley Hills and Hollywood are obvious celebrity haunts and if you want to catch an onscreen idol, consider leaving the star maps behind and check out some of these well-frequented hang-outs.
The Sky Bar
There are many glamorous and iconic hotels in Los Angeles but a favored location for many celeb's who are trying to enjoy a discreet drink, is the Sky Bar at the Mondrian Hotel.
A diverse mix of celebrities can be found hanging out at this bar, including Tara Reid and Nicole Kidman. It also attracts a fair amount of rock band clientele, so if you are a Guns N' Roses or Smashing Pumpkins fan, this might be the place to find your heroes.
Fred Segal on Broadway
Many celebrities like to splash the cash on a regular basis and Fred Segal on Broadway is a popular spot for melting the plastic, which many try to do in search of hip apparel.
Regular sightings of celebrities browsing and buying in Fred Segal are almost guaranteed. The place just seems to be a magnet for the rich and famous. Megan Fox and Jennifer Aniston are just two stars who have been seen shopping there by their fans.
A-Lister Brentwood Country Mart
Located at 225 26th Street on San Vincent Boulevard in Brentwood, this historical but trendy mart is popular with plenty of A-listers as it offers a great place to shop and dine in one of the numerous stores and restaurants there.
Sightings at the Brentwood Country Mart include Mr Box Office himself, Tom Hanks and also Gwyneth Paltrow amongst a number of high-profile celebrities who like to head here for an A-Lister shopping experience.
No ordinary Starbuck's
There are thousands of Starbuck's around of course, but San Vicente's Starbuck's is a coffee shop that has a fair sprinkling of star dust as well as mocha's and lattes.
Situated on a small island that is between Bundy Drive and San Vicente in Brentwood, this is a coffee shop that is always popular with a fair amount of LA royalty and you probably won't have to wait too long to spot a celebrity.
Pink's
If you fancy a late night 10-inch chilli dog and the chance to spot a celebrity like Owen Wilson enjoying the same, then you need to head to Pink's.
This is a small shack with a big reputation and not only is this eatery on Melrose Avenue famous for its chilli dog's, it also gained notoriety as being the venue for Bruce Willis to propose to Demi Moore.
Casa Vega
This is well-established restaurant that has been serving up Mexican food to the stars since the mid 1950's and it continues to attract new generations of celebrities, who love the food and the privacy that the restaurant tries to provide.
The combination of low-lighting in the restaurant and a discreet entry and exit arrangement for celebrities, means that you will have to look hard to spot the celebrities who will definitely be there enjoying something like the speciality oven-style burrito or maybe a Vega Ribeye steak.
Jitlada
Sunset Boulevard is a famous location but Jitlada enjoys a discreet position that is located in a strip mall just off the boulevard.
This is a restaurant with a big reputation amongst foodies as well as celebrities who arrive here searching for a Thai dish that gets the taste buds going. You can even follow their Instagram feed to see which celebrities have recently paid a visit, which in the past has included stars like Ashton Kutcher and Ryan Gosling.
If you are star struck, check out these venues and you probably won't have to wait too long to see someone famous.
Kathy Reed works as an executive assistant. She enjoys writing about her travel and business experiences online. Look for her posts on many business and travel websites.