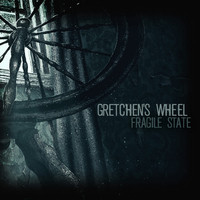 Gretchen's Wheel embodies casual cool. Fragile State focuses heavily on the concept of nostalgia. This is done through the lyrical content itself as well as the smooth, early 90s dream-pop sound. Such silky sounds from the polished vocals to the pitch-perfect chords. Everything on Fragile State is in the right place. At times the songs take on a slight tinge of shoegaze courtesy of the delicate organ work and the guitars that float down from the heavens.
Stream their new record: http://gretchenswheel.bandcamp.com/releases
"Second to Last" opens the album on a heartfelt note. As the piece progresses it ascends into the clouds. The shimmering notes of "Pretend" recall the tenderness of the Cocteau Twins. For "One More Mile" Gretchen's Wheel takes a long-distance view, of focusing on the drudgery and repetition of life. By far the highlight of the album is the masterfully executed "The Fourth Wall". With this song Gretchen's Wheel opts for slow-burning energy. As the piece unfolds it grows more and more passionate. On those final moments of the piece it bursts forth into glorious distorted colors. Balancing out this intensity is the lumbering "Let Me Believe". Spacious in scope is "No Difference" whose graceful lines create a mellow daydream of sound. Ending the album off on an epic scope is the gigantic dramatic "Total Loss" which laments on the analytical distance people use to cope with the world.
Fragile State is an album reflecting on the delicacy of life and its many experiences.
https://www.facebook.com/gretchenswheel
Posted by Beach Sloth