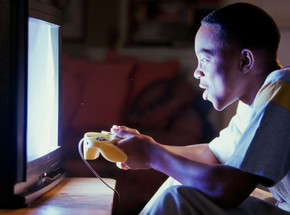 Some of the best video games draw their inspiration from sources like comic books, movies, and television shows. Developers look at a show's fan base as an untapped market thirsty for other ways to get their fix. In other ways, video games become the inspiration for shows and other media sources. Here are five video games that spawned off from a successful television series.
The Adventures of Batman & Robin
The Adventures of Batman & Robin came out in 1994 for Super Nintendo and Sega Genesis and was based off of the popular Batman: The Animated Series TV show. At the time the game was known for superior graphics and challenging levels with great variety. The series and game were responsible for breeding a new generation of Batman fans.
South Park: The Stick of Truth
This 2014 game for PlayStation 3 and Xbox 360 is based on the popular animated social satire show South Park. It was inspired by the episode "make love, not Warcraft", in which the gang becomes obsessed with Warcraft. In true RPG fashion, you start the game as a new character where you can pick your class and abilities. What makes this game unique is its comedic story line, which amuses and offends in true South Park fashion. It's a game that really understood the original fans and succeeded in the video game realm as well.
Buffy the Vampire Slayer
Buffy the Vampire slayer was released for Xbox in 2002. It was modeled after the traditional action game so the controls are easy to learn, and the story line is fast-paced. The script is brand new for the game so players are surprised and entertained by the story's twists, just like the original show.
The Walking Dead: The Game
This is the best example of a successful television to game adaption in modern times. The game is structured similar to the show in that it is broken down to episodes. While set in the Walking Dead universe, most of the characters in the game are new characters. The game has great character development as the choices you make in interactions with other people shape how your character grows. It won game of the year from several magazines in 2012, and has been a favorite among comic con, Momocon, and card gaming convention attendees alike.
Teenage Mutant Ninja Turtles: Turtles in Time
This 1991 classic took arcades by storm when it was first released. It boasted superior graphics and fighting mechanisms that kept players glued to the screen. The port to super Nintendo took the game to players' living rooms, and there its popularity grew exponentially.
These 5 excellent games show that television shows have been and always will be a potential gold mine for game developers.