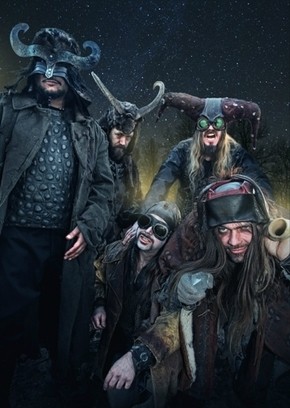 Legendary Norwegian metal band ARCTURUS will release its first new studio album in a decade, Arcturian, on May 8 via Prophecy Productions. Unparalleled in creativity, musicianship and artistic approach since its formation in 1987, mastermind Steinar "Sverd" Johnsen and his cosmic crew — consisting of past and present members of Ulver, Mayhem, Dimmu Borgir, Borknagar and Ved Buens Ende — have been dancing their very own tightrope between genius and madness ever since. With each new release becoming an interstellar journey of its own, ARCTURUS is consistently ahead of its time and can justifiably be labeled the epitome of avant-garde metal.
Arcturian is ARCTURUS' fifth full-length studio album, and the announcement of its release may take many a fan by surprise. As the title indicates, ARCTURUS return with their quintessential work. Veined by the band's boundless creativity, Arcturian is a setting-to-music of both the sublime and the beauty of outer space, uniting grandeur and filigree. The band's new music is at once daring and unpredictable, just like the magnificent artwork designed by artist Costin Chioreanu (Triptykon, Darkthrone) in close collaboration with the group. With what is unquestionably the group's strongest album of the millennium, ARCTURUS prove once and for all that — for them — nothing but the sky is the limit.
In advance of the release of Arcturian, ARCTURUS teases the album with the premiere of the record's lead track, "The Arcturian Sign".