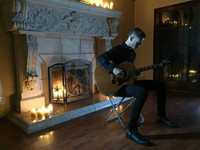 Vince Grant's darkly titled "My Depression Is Always Trying to Kill Me" is music for cloudy days. The songs explore the loneliness that comes with depression and how isolating it can be. Lyrically the songs express a yearning for others. With a dreamy sound that seems to rise above the ground like fog the work itself is lost in a haze, searching for hope and moving towards the bright lights. Over the course of the collection Vince Grant explores this tension between present sadness and optimism about the future.
Watch the new music video for "Melancholia" (Produced and Directed by Alex Nasonov):
https://www.youtube.com/watch?v=klRY-W_kdJE
"Melancholia" begins the album on a suitably wistful note. Instrumentally the song sounds akin to the dreamy emotive pop from Radiohead's "The Bends" right down to the moody temperament. "Oceans" opts for something more immediate and intimate. Sounds are made much smaller. Elements of the work hark towards ambience. For the final stretch of the song Vince Grant strips away the band revealing himself alone as the band comes in gradually showing off the power of the rush towards something great. Brooding in sound is the contemplative "Edge of the World". Things move into a delightful swirl of sound on the expressive "How Many Times You". Bringing the collection to a powerful conclusion is the sprawling beauty of "Sweet Addiction" whose sound cycles through multiple reiterations before it ends in a crescendo.
"My Depression Is Always Trying to Kill Me" is a powerful expressive piece of work.
http://vincegrantmusic.com/
https://www.facebook.com/pages/Vince-Grant/295743500446097
Posted by Beach Sloth