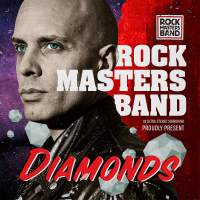 Rock Masters Band needs no warm up. They start right at maximum volume and maximum onslaught. With "Diamonds" they prove exactly how much energy they have. For the flipside, on "Hit The City" they opt for a casual summery groove. Put together they are able to show off their considerable range. Although the two songs have dramatically different approaches they ultimately form an easy balance between the confrontational and the cool.
Listen to both tracks at Soundcloud:
https://soundcloud.com/rockmastersband
"Diamonds" is an absolute rush. Guitars burn through with a tempo that does not stop. Volume continually grows ever more expansive. The entire band gives it their absolute all. By singing together as a possessed chorus the lyrics have much greater impact. Lyrically the song takes on a relatively dark note. At times "Diamonds" seems to embody a sense of longing. Distortion is employed quite heavily throughout the piece. Towards the latter half of the song the Rock Masters Bands displays a "making nice" section letting a guitar solo rip forth right before blistering towards a chaotic conclusion.
For "Hit The City" Rock Masters Band takes a different approach, considerably different. Everything is spread out. There is a large amount of confidence that permeates the piece. A certain swagger exists as the song moves forth as the lyrics help to guide the way. Dreamy in a sense the piece resembles the sticky heat of summer nights.
"Diamonds/Hit The City" is a perfect one-two punch of rock done right.
http://www.rockmastersband.com/
https://www.facebook.com/rockmastersband
Posted by Beach Sloth