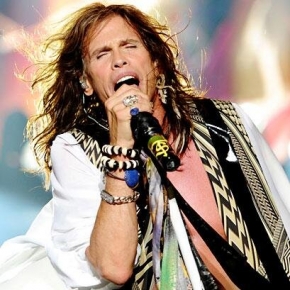 Artists are believed to give everything they have for their art: blood, sweat, and tears. For most musicians there's nothing better than taking to the stage and there's nothing fans love better than being dazzled by their favorite bands. Sometimes, however, things don't go exactly as planned. By pure accident or happenstance, or poor execution, musicians can leave the show bruised and broken. Bought to you by WZLX's Matt Dolloff, here are just a few musicians who did exactly that when they took the stage, sustaining injuries while thrilling the crowd at various concerts.
Steven Tyler
Rock and roller Steven Tyler, from the band Aerosmith, had some trouble seeing the end of the stage during a show in South Dakota in 2009. While breaking into some serious dance-moves he took a misstep and fell of the stage, sustaining head, neck, and shoulder injuries. While a heavy prescription of R&R would be in order for most of us, he must have received some good physical therapy advice because Aerosmith only canceled the one show.
Krist Novoselic, Nirvana's Bassist
In the climax of their performance at the 1992 MTV Video Music Awards, Nirvana's bassist Krist Novoselic was so into the moment he threw his bass up in the air. Unfortunately, Novoselic wasn't as coordinated as he thought and the bass crashed down on his head. His comrades didn't seem to mind, continuing to play, while he lay on the ground in agonizing pain.
James Hetfield, Metallica
Shows wouldn't be the same without those amazingly impressive pyrotechnic displays, but they're not as safe as one might think. Metallica is known for loving the fire and they've continued to create even bigger, louder, and hotter effects despite the fact that in 1992 front-man James Hetfield sustained horrendous burns performing the opening of "Fade to Black" during a show in Montreal.
Frank Zappa
Sometimes it's the fans that get crazy and hurt the musician. In a 1971 show in London, Frank Zappa was pushed off the stage and ended up crashing into the orchestra a full 15 feet below thanks to an angry man from the audience who somehow made it up on stage. Zappa had to nurse himself back to health from several serious head and neck injuries, a broken leg, fractured rib, crushed larynx, and general head trauma.
Beyonce
It's not just the rockers who get hurt on stage. The Queen B herself, Beyonce, got her heel stuck on her long coat while walking some stairs at an Orlando concert. She tumbled down 12 stairs, but the injuries were minor and she popped right back up, unwilling to disappoint throngs of her adoring fans.
Meat Loaf
Yet another star that fell off the stage is Meat Loaf. While playing a lively show in Ottawa in 1978, things got out of hand and he left the show with a broken leg. That didn't stop him from continuing the tour, however, and the rest of the performances were given from a wheelchair.
Ginger Fish, Marilyn Manson's Drummer
There are some musicians who can't seem to make it through a show without getting hurt. This is certainly the case of Ginger Fish, the drummer for Marilyn Manson, who gets injured so frequently it's unusual to have a show were he doesn't get hurt. One particularly disastrous injury for him took place in Cologne, Germany during the Comet awards show in 2004. According to Billboard, he fell twice, once off the drum riser, then off the stage, which led to a fractured skull and severely, bleeding wrist.