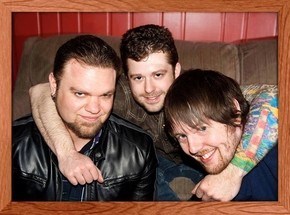 Hello to all, nice to be back at it on a Tuesday morning, the last day of March 2015! Lots going on in the music world as usual but that is a good thing. In the first half of 2014, music streaming revenues have surpassed CD sales for the first time in the United States. That's according to data published by the Recording Industry Association of America last week. Total streaming revenues, including revenues from subscription-based and ad-supported on-demand services as well as non-interactive online radio services, increased 28% year-over-year to reach $860 million. I cannot say that I am surprised. Yesterday Jay-Z launched a new music streaming service, TIDAL. This is the first music streaming service that combines the best High Fidelity sound quality, High Definition music videos and expertly Curated Editorial. Priced from $9.99 to $19.99 this new service offers a majority of the company to be owned by the artists. Check it out at – http://tidal.com. So today we have a band by the name of Ian and the Dream coming out of Wisconsin. These 3 musicians have come together and created an upbeat, fun, & catchy sound that leaves you feeling good and wanting more. Their new album "California Cauliflower" is out now and its well done. Join us today as I speak to the guys on winter in Wisconsin, the new album, respect for the Beach Boys, and so much more!
Stoli: Where are we talking from today and how was winter in Wisconsin?
We're talking at my home in Waukesha, birthplace of Les Paul and the electric guitar. Winter was absolutely brutally cold for the second year in a row, but what can you do?
Stoli: Looks like your governor will be running for president. Do you have an opinion on him and will you support him?
I met him at Marquette University last spring when my brother was commissioned as second lieutenant in the US Army. He seemed nice. There's a lot of controversy surrounding him, and yes, I do have some opinions. I'd rather not judge him, I think to some degree everyone is doing their personal best. Be true to your vision, as long as it's not harming anyone else.
Stoli: Offer us a brief history on how you came together and what is behind your name – Ian And The Dream?
Bassist Chivo and I met when he moved into my neighborhood- we were just in middle school. We became instant friends and played music together. Brian came into the fold three years ago, and we're really glad to have him! Our name is really pretty simple- have a dream. Some people might call that a mission, or a purpose. For me, that dream is to be writing, recording and performing music for our audience. Hence, Ian & The Dream!
Stoli: How long did it take you guys to find your sound and develop how you wanted the band to be seen by the people?
I'd say a good several years. What do they say, you have to put in your 10,000 hours? We cut our teeth many ways. Chivo and I used to play a residency downtown Waukesha every other weekend, so that got us pretty tight. Working with various producers over the years also helped a lot, the Grammy winner Stephen Short for one. That guy taught me so much about life, love and music. He really helped us brand ourselves over the course of a few years.
Stoli: I am really enjoying your album, 'California Cauliflower.' How long were you working on that album and where did do the recording/mastering?
Thank you. It took us nearly a year to complete the album during 2013-14. We recorded it at our home studio in Waukesha and it was mastered at my friend's studio in Hubertus.
Stoli: If you were to make a music video for the single what song would you choose and what would that look like?
We did a video for "Steppin' On My Shoes." It's kind of a parody on Fred Astaire's old dance moves- we're twirling canes, bouncing off the walls, and having a good time. Rae Cassidy Klagstad (formerly of San Fermin) appears in the video. She knows the Fred Astaire stuff inside and out and she taught me some pretty intricate moves!
Stoli: You can tell that you invested in the physical CD which I commend. Why is that still important to you in this digital age?
Thanks. Well for one thing, we wanted to make sure people viewed "California Cauliflower" as an album. It's not intended to be a collection of singles or a compilation. We put a lot of thought into the sequencing of the tracks and how the overall emotional arch should be. The name of the album and the story behind it was filled with rich imagery- it needed a vivid cover and the picture of me with Brian Wilson inside. I really had a lot of help putting that package together- I owe many thanks to our duplicator Chris, and our photographer Becky who was very patient and thoughtful in helping get everything in our package together and looking right.
Stoli: On your site I get the feeling you respect & admire the Beach Boys. What is it about that legendary band that inspires you?
Haha, does it really show that much? Indeed, I do like the Beach Boys. So much about them is inspiring- the harmonies, the chord progressions, the recordings- but especially Brian Wilson. He's such an interesting and gifted person. It's like he's personally connected with music as a higher power in some way. I'm really looking forward to seeing his movie "Love and Mercy" this summer. I've met all five living Beach Boys, and they complimented my singing, which was truly special to me.
Stoli: Besides playing music what other hobbies/interests do you have?
I started doing yoga a couple of months ago, which I really enjoy. I haven't explored the spiritual side of yoga yet, but I'm curious as to what that's all about. So far the one hour classes have been a good introduction and I feel more flexible and relaxed. I practice Vipassana meditation, which is a big part of my life because I do it for two hours a day. I also like to have a lot of fun- go out and sing karaoke, see a friend's band somewhere, go running or rock climbing, and even the occasional Zumba dancing! And of course, riding my motorcycle is lots of fun when the Wisconsin weather permits.
Stoli: On the album you have various references to California. Do you guys yearn to live in San Diego or Los Angeles some day?
I guess to some degree I've always imagined I'd end up living in California- yet here I am in Wisconsin! The references to California on the album came about in a much more random way. The opening track "Girl From California" was inspired by the Red Hot Chili Peppers- I thought that musically it sounded like something they might write, so I followed Anthony Kiedis' tendency to write about girls from California and it was as simple as that! By the time "California Cauliflower" was written, I had met Californian Brian Wilson and was dating a girl who's family lives in California, so it all fit together naturally.
Stoli: Your social media catalog is well done. What site do you find works best keeping & attracting new fans?
Thanks, Mike. And thank you Chivo, isn't Chivo doing a good job being our social media ringleader? We like Soundcloud a lot, that's a site where our audience tells us what they like about a song on a more specific level. We can see how our fans are connecting emotionally to the music, and what songs they connect more to, even at what moments of those songs! It's pretty neat to watch. Our Instagram and Twitter accounts are doing well too.
Stoli: What is coming up for Ian and the Dream and where you @ online?
We're in the beginning stages of making our next album- tracking and editing drums. We're gearing up for a fun summer of music festivals, too. You can see some dates at:
www.ianandthedream.com
www.facebook.com/ianandthedream
www.twitter.com/ianandthedream
www.instagram.com/ianandthedream
www.soundcloud.com/ianandthedream