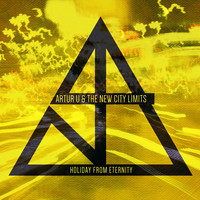 Artur U & the New City Limits play moody rock for cloudy days. Their work explores the same sonic palette as so many now gone bands from the mid-2000s. Emotional, melodic, and downright beautiful at times they manage to find the joy within their self-imposed limitations, opting for small gestures to create big pictures. Very subtle their work uses the power of repetition to show the importance of gradual change. For much of "Holiday From Eternity" volume is a must as these are songs full of a dizzying array of textures from traditional rock to synthesizer washes.
Share the lead single "On A Holiday":
https://soundcloud.com/arturunewcitylimits
"Holiday From Eternity" opens up strong with the dreamy work of "Another Day". Early on they present one of the album highlights, the fascinating work of "Monkey House". Strange in construction this piece feels remarkably reassuring. Like reflecting on childhood from the distance of adulthood, the song conjures up images of "Where the Wild Things Are" in terms of its maturity. An absolute rush of sound defines the aptly named speeding "On a Holiday". Opting for something entirely different is the patient work of "Wind" with the sound stripped down to the essentials and slowed down into a meditative contemplative rhythm. By far the most hyperactive track is "Mechanical Dream" whose aggression is unparalleled. "The Secret" ends the album off on an epic note, a sprawling mixture of krautrock and psychedelica. It is by far the best song on the album and brings "Holiday From Eternity" to a wonderful close.
Dark and dreamy "Holiday From Eternity" are the ideas that rest in the shadow late at night hoping to see a little light.
https://www.facebook.com/arturunewcitylimits
Posted by Beach Sloth