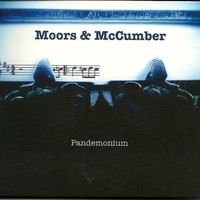 Moors and McCumber have been around a long time, and I've never liked them much but this is at least a step in a better direction. The singer/songwriter approach brings a more easy listening sound, similar to Steve Earle and others. The strings on this release "Pandemonium" are also of noteworthy quality as well. They seem to come full circle for their fans, and that always meets or exceeds the goal.
The CD starts with "Crack A Smile" which lays an instant stamp down with country defined though a lot of popular values. But the songwriter vibe is just as strong, so it mixes perfectly that way, and it's all over the album. This is actually nice melancholy tune. But the next track "You Take Me Somewhere" doesn't have the same hypnotic force to pull me in, with its fiddle heavy sound which is just not for me. So, needless to say I can take or leave that, save to say the chorus and overall instrumentation aren't bad. They get back to a more pop heavy sound on the next track "Everything" and it's nice on the ears to get back to that direction of which I'm obviously partial to.
It just bubbles along well and takes me to a further place than the country heavy influence to equally be found on offer. Track 4 is a great tune which blends the two flavors with equal perfection. This is a very good song in that aspect, as any on the disc, or perhaps even the best. It's the pop sensibility kept well up on this, which defines easy listening so well, it passes well for me on this one song alone. It's all there, excellently orchestrated. It doesn't matter if you like country here or not, you can't deny the quality of songwriting and playing, it's too well delivered to knock anything about.
The next track opens with a nice mandolin motif before going into a very vocal dominated track, not half bad at all either, whether my thing or not. But the mandolin and other strings here are awesome. I even don't mind the lyrics on this track, and that's saying a lot for me with country. "Bend Or Be Broken" is a bit repetitive for me, another one that falls short for me. "Take Me Away" makes up for it well, but the best thing about it for me is the guitar work and how the other strings play with it. Other stand out tracks include "Buried In The Earth," "If living Was Easy" and "All great Tragedy."
Most of this music while not exactly my cup of tea with the exception of the string combo, do have nothing to complain about within their audience, and that I can safely say, and I did like several of the tracks, reminding me of some older and newer artists I listen to on the singer/songwriter side, which have more of an AOR feel to them. The title track "Pandemonium" doesn't play till the end, but if you like chilling ballads it is worth the wait.
Larry Toering
URL: http://www.moorsandmccumber.com/
Score: 3.5/5