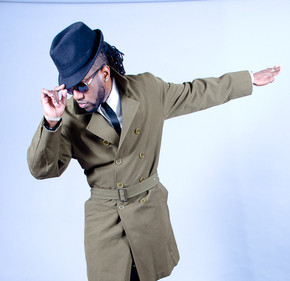 OFNIE was raised in the south side of Brooklyn, New York listening to music from both the Caribbean and American top chart songs (from the 40's to present). The merge of Caribbean Island and Southern American cultures expanded the knowledge of OFNIE's upbringing, influencing him spiritually and musically. Activities such as learning to play the piano in grade school along with tap, jazz, modern and African dance lessons have kept OFNIE constantly involved in music. From the onset his mother could see her son's passion, and she and his sister purchased his first 12 inch albums featuring music from Lionel Richie ("Can't Slow Down"), Michael Jackson ("Thriller"), Pat Benatar ("Heartbreak") and Shalamar ("A Night to Remember").
He went onto discover the works of artists such as Prince, Stevie Wonder, Mariah Carey, India Arie, Maxwell and Biggie Smalls and learned to appreciate lyrical content which enhanced his gift of songwriting. Never letting go of his dream and what was instilled in him as a child he formed his label UFO which stands for UNIVERSAL FUSION OF OFNIE. He chose the title of his label to represent his music, OFNIE UFO MUSIC to give back to the music community that he grew up with.
Currently, OFNIE is performing his own music in major cities and is being internationally recognized as a rising Pop Star with a live band, dancers and background singers – which he calls "The Crew". He is signed with A Train Productions who consists of (A.B. Peterson, Al Levene, Dean Jackson and the late Darryl aka Big Boss).
One of his latest singles is a song entitled "Forever" which starts off with simple childlike single chords and builds up so that you can hear the message and the actual lyrics. In my opinion it is a hit with a journey appeal and OFNIE brings full delivery on cue with his silky vocals. His style is a fusion of Neo, Maxwell, and Bruno Mars all mixed with a dash of the legendary Prince. This particular song is timeless because it's about love and life. OFNIE displays his various vocal octave ranges with the catchy hooks and then the song takes a delightful twist in the bridge and becomes saturated with harmonies amidst a breakdown of the instruments. "Dejavue ….. claim it …cause it's yours FOREVER."
You can support OFNIE and his album the ABDUCTION at the following links:
Website – http://www.ofnie.com
Further Inquiries contact http://A-TRAINMUSICLIVE.com or Dean Jackson/1-718-776-9820
LA Virgil – lavirgil2010@gmail.com – http://www.hismultimediaintl.com