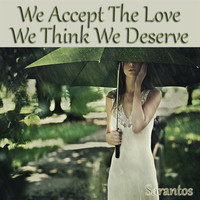 We Accept The Love We Think We Deserve is a song dedicated to that universal truth: the feeling of hopelessness that precedes and follows any breakup. The lyrics focus on the sadness that one experiences with being alone. A full sound accompanies Sarantos's voice as the band takes on a cinematic scope. Sweeping sounds help to emphasize the message as Sarantos pines for better environments and better prospects.
Video: https://www.youtube.com/watch?v=9Qpi2KmtIDc
Opening up with dreams of Mykonos Sarantos acknowledges the present emptiness of his current situation. Sarantos explores why exactly this emotion exists. He wonders aloud what could have happened to make him lose faith in relationships. It is a question lots of people ask themselves as they face a world with those whom they've fallen out of love. During the song he explains what he is willing to tolerate in order to maintain a relationship. This includes getting yelled at, for fear of ultimately being without anyone at all. Upon trying to justify these reasons he finds himself at a loss. Individuals outside of a broken relationship look on unable to understand what, if any, benefit there is at being with together with the wrong person. For what keeps people together is not always a logical thing for emotions are not logical things.
Towards the end of the song the sound crescendos before evaporating into nothingness. Sarantos explores the innermost desire of being together on We Accept The Love We Think We Deserve.
Posted by Beach Sloth